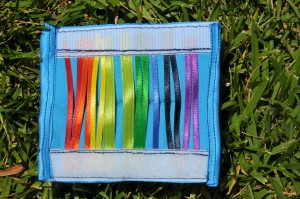 We have a baby friend who likes to chew on velcro, he's teething, and I was inspired to make something now while he was over here playing. I made this out of six inches of silky blanket binding, a bunch of ribbons, and some velcro strips. With whatever thread was already in the sewing machine, obviously. If you want to make one too here are the basic steps:
Open up the blanket binding, and sew a strip of velcro to each edge, leaving about 1/2″ of binding at each end to fold over the edges at the end. Only sew the edges of the velcro along the outside of the binding.
Cut up a bunch of ribbon pieces and slip them under the edges of the velcro.
Sew down the edge of the velcro towards the middle of the binding, securing the ribbon ends.
Fold down the non-velcro edges of the blanket binding and stitch them down to cover the ends of the velcro.
There you go. I think this is neat, because the baby gets to chew on the velcro, grab the ribbons, and you can fold the ribbons to the inside, velcro it shut and stuff it in your bag.