I am lost deep in the black hole of moving hell. Okay, perhaps not quite that bad. But I swear I haven't done anything other than unpack boxes and buy bookshelves for the last three weeks. The light is starting to come out though, Saturday we finally unpacked the paints, and yesterday I cleared enough space to dust off my ancient Singer Featherweight. (I've been borrowing my ex-housemates modern sewing machine for the last 6 years…) She still runs, her name is Elizabeth, and she was my mother's in college. I think I need to get her serviced pretty badly though, she's sounding kind of chattery, and I think I'm missing a screw from the bobbin assembly…
Anyhow, here are some awful pictures of Rebecca's sewing, from two months ago. The next several posts will all be things several months old, before moving took over my life!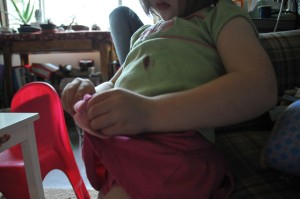 Rebecca has been sewing felt recently. For Christmas D-Pa got her a stack of craft felt of her very own. This is a heart that one of us cut out, can't remember. I think she cut it out… it was for Daddy, went something like: "This heart is for Daddy." "You're cutting a hole in it?" "Daddy has a hole in his heart and all the blood is coming out." "Oh?" "Now I'm taping it up." "Mom, make a needle for me, I want to sew it to my skirt." "Oh sure, why not." "Now Daddy's heart is stuck to my skirt, and I'll show everyone at school tomorrow." Two months and it's still on there.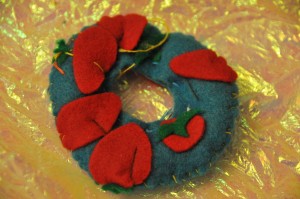 Yes, the color on this is awful. We did this at Nenny & D-Pa's house over winter vacation. Rebecca said she wanted to make a donut, so I cut out two teal circles for her. Yes, she chose the color. First she sewed around the ring in the middle, then she said she wanted to put strawberries on it. So I cut out some strawberries, and she randomly stitched everything together. Then she wanted to stuff it. Sweetie, that's really the wrong order to do things in, but who's fault is that really? Sigh. Okay. So I started forcing stuffing in between the front and back between the strawberry stitching, holding the edges shut so that Rebecca could whip stitch around the edges. It ended up plumping up reasonably, luckily she wasn't very thorough about sewing down the strawberries, because Mama's always have to make these things work out, right?
By next week maybe I will have unpacked her felt and she can get back to work again. Actually, the biggest stumbling block to that right now: I bought a second hand wood bookcase for craft supplies, sight unseen, or in this case un-sniffed. It reeks of either perfume, incense or ill conceived fake teak scent. Any ideas how to get rid of it? I'm afraid the scent is somehow embedded in the finish and I'm very upset about the whole thing. It looks very nice, but the smell is making my throat raw.