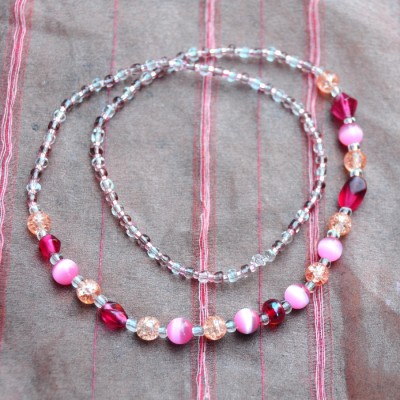 One month ago Rebecca started her second year of preschool (parent co-op which she loves and never wants to leave, today she said she wished the school day was longer… Next year baby…). Penelope went down for her nap, and I suddenly had an hour and a half of completely child free time. How novel! (Rebecca hasn't napped in two years…) So I used it to assuage my guilt at not having made Rebecca a back to school anything, and made her a pink necklace. She's just started to get into pink. And princesses… If you asked her what her favorite color was before the school year started, she would say, all the colors that my art friends and I use to paint with. Now she says pink. And black, sometimes. Anyway, I gave her the necklace as a 'congratulations on your first day of a new school' present, which she was thrilled with. The school and the necklace.

To make it I used the clear stretchy beading string you can get at the craft store. We use a lot of it around here, Rebecca loves to make bracelets, and so do some of her friends. We use the 1mm stuff, which is pretty sturdy. For the kids I used to try to knot it, or knot it around a bead for a stop, which sometimes came off, it's slippery stuff. (When you make the final knot you have to use a dot of super glue to lock it.) I've finally figured out that the best way to start a string of this stuff for a small child is to bend the end into a large U and fold some masking tape around it.
I also dug into my vintage cats eye and crackle beads, glass pony beads and seed beads, and the few remaining pink beads in our glass bead grab bag. Need to get some more of those!