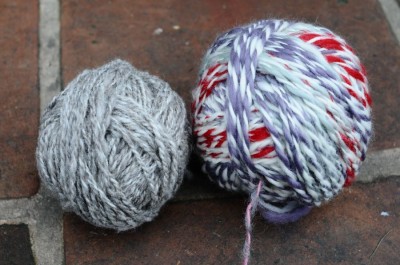 I don't really use yarn much. And I have plenty. But ever since I learned to spin last fall, so that I could teach it to my elementary class, I have had this NEED to spin. I finally bought a spinning wheel for the class, a (relatively) inexpensive electric one. Electric because that gives the kids one less thing to concentrate on when they are spinning, they don't need to learn to treadle and draft and what not. Turned out I am not that fond of it because it is quite noisy, also I shouldn't have gotten the 'bulky' one, I wanted the kids to be able to spin thick-thin yarn without worrying about it, but I think the regular one probably would have worked, and the bulky one comes with *enormous* bobbins, making the whole machine larger, and we don't have much storage space at school. I am such a rambler.
Spinning. Spinning is awesome. The electric machine made it very very fast, but also a little dizzying. Right now I am experimenting with hand spindles, which I had never heard of until this spring. I started out with a bumpy little stick. Then migrated to a pencil, and recently experimented with a dowel with the end sanded round. It turns out you need very very very little to spin. Like, wool. There, you're done. Add a rock or stick if you are feeling ambitious. So awesome!
But the yarn. WHAT DO I DO WITH IT? I do knit and crochet, but they are not my current loves. I feel like if I want to make amigurumi or similar, that I should just go directly from wool -> animal, why spin it in the middle? Just to make your life more difficult? Needle felting is so amazingly flexible and easy. I started knitting a horrible scarf out of my mismatched colored experimental yarn, which for some reason my husband has claimed. I think he's crazy, but whatever, just so I would have something to DO with the yarn because I felt so silly making it for no good reason.
So there you have it, I have this solar plexus level *craving* to spin, and no real desire for the yarn. Clearly there is something wrong with me.