[Don't forget I'm having a Candy Corn Barrette giveaway!]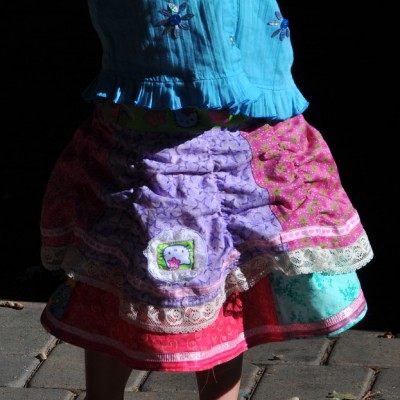 A month or so ago I got 'Sewing Clothes Kids Love', and I heart heart heart it! It is full of the clothes that I wish I had had as a girl. I may yet scale some of the patterns up and wear them myself. I'm not sure I'm allowed to wear them as a mom though! I just made the Insa Skirt for Rebecca. I convinced her that it was a princess skirt, and she wants to dress up as a princess for Halloween… is that cheating?
We went to Jo-Ann's Fabrics when they were having a $1 fat quarter sale, and I let Rebecca pick out 8 different prints. I think the result is awesome. And a little big. It will probably look better on her scale wise in a year, I should really draft the proper size for her, and then make 10, because I think they are so cute.
Notice the upside down Hello Kitty framed ribbon bit? She demanded that Hello Kitty be upside down everywhere on the skirt, so that she would be right side up to Rebecca when she was looking down. I sewed most of the kitties on right side up… but I relented and sewed one special one upside down. I don't know if that makes it look like more or less of a mistake than if I had just done them all upside down…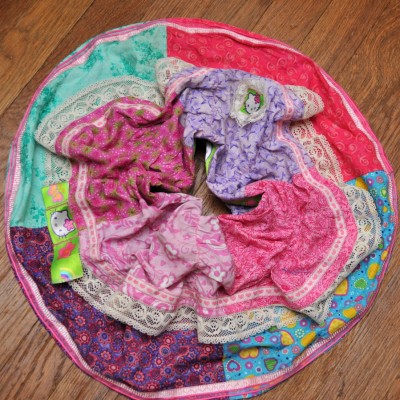 Here is the skirt from 'above' so you can appreciate all of Rebecca's fabric choices. At first they were going to be all pink, but she really branched out! Her favorite after bringing them home was the purple stars, so that is the 'front', as much as this skirt can be said to have a front. When she wears it it tends to spin around through the day anyway. Then she gets a bit peeved that someone has turned her skirt around!
I feel like I've learned a lot from this book, and between it and my serger I'm finally making clothes that I actually really like. I learned how to use elastic to make the vertical gathers in the skirt, and for the first time managed to hem a non cylindrical skirt without any swearing. Excellent book! Now I just need to quadruple my ribbon stash. I'm going to need to make another ribbon spool holder!