Acrylic Stamping on Fabric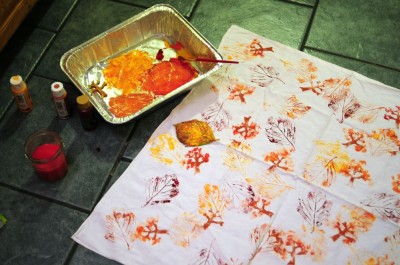 One of the projects we did for my textiles class was stamping on canvas bags. Before that class I made this example piece of stamping a leaf and custom sponge stamp. Stamping with leaves is so much fun! I put a bit of acrylic paint into a baking tin, brushed it think with a brush, then rubbed the leaf in it. That kept the paint mainly on the leaves' rib and veins which let me get a good print. I didn't even have to use a brayer, I just pressed down evenly with my fingers. I was surprised that it worked as well as it did with as little fuss.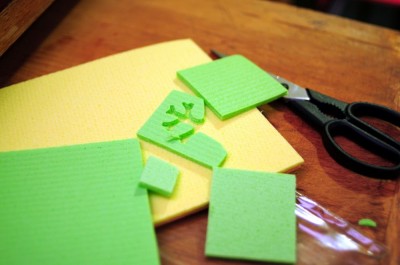 One of the other things I tested for my class is cutting sponge stamps, but I wanted something light enough that little hands with little scissors could cut it. I found these lightweight sponge-cloths, and they worked pretty well. They are about 3/16″ thick and pre-moisened, so they are soft. They are a little fiddly to stamp with, because they are thin, but they are nice to cut stamps out of and worked fine with just a smear of paint on my tray. After stamping the tree branches I went back later and drybrushed in the foliage.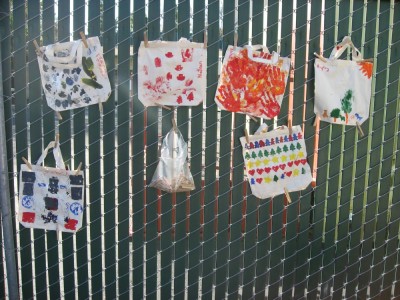 Here are some of the kid's bags, in addition to leaves and sponges they had pre-cut potato stamps, lemon and apple halves, pine cones and other fall detritus, and of course, their hands.