One Yard Wonders Fabric-By-Fabric (Rambling & Giveaway) *CLOSED*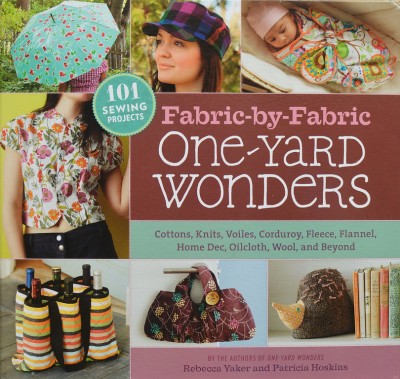 Is out! I am (not) famous! And I have three projects in it this time! Especially lucky since I was so busy before the submission deadline that I only submitted one rather easy (but cute! really!) project which they didn't take, but I also included some other ideas I had, and they gave me an extended deadline to work on them. (More time, a blessing and a curse!) I've hinted at them over the last year and a half, and now you get to see them!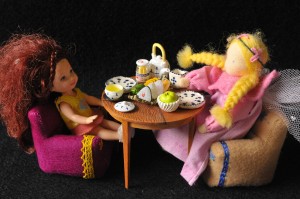 Do you remember these felt doll house chairs? (Complete with tutorial) And the pondering about whether they would scale up?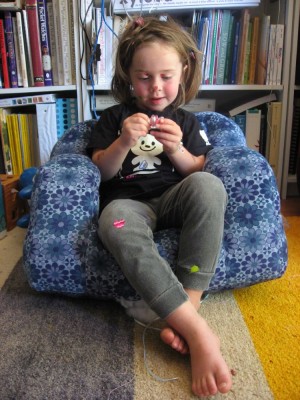 Wait, I've blogged about that before! But now you can see the final project. I must be going senile! I bet you forgot too. Whew, safe!
Since this is from a year and a half ago Rebecca is 4 there. I was watching a video linked on Spincushion, and Rebecca Yaker says she thinks it would be good up to 2 or so, (and she called it a 'wow' project, so heady!) but I think she's underestimating children's desire to fit into little things. So while I probably wouldn't make it for a 4 year old, my 4 year old would disagree. And my 5yo too probably. I should have asked her what her favorite project in the book was. The hedgehog book ends? No, that's probably me. I'm betting on the Domo-kun backpack.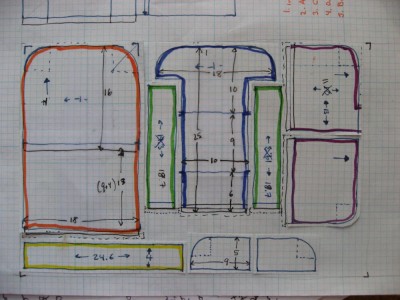 Rebecca & Trish (the authors, not my daughter) expressed amazement that this chair could fit into one yard when I suggested it. Here is the logic puzzle that I played with over and over to figure out how deep and wide and tall I could make the chair, and still fit it into one yard of home dec fabric (so 36″ x 56″) and keep all the main elements with the fabric print facing a desirable direction… it was both fun and headachy! I think I'll do another post too on how amazing it is that they took all my sketchy illustrations and turned it into such a pretty book! That was what amazed me most with the first One-Yard Wonders book, the gulf between my input and their output, as a novice contributor last time I was bewildered that they were going to make a book out of what 101 people like me sent them! But it came back so pretty!
On to my second, in no particular order, project, the book holder. This is definitely the most practical, and I've had to make one for a friend already.

This is the prototype, slightly saggy, as it is before I increased the pocket dowel diameter. Although any version will sag with enough weight. Not the most glamorous or novel project, but totally the most useful. I love having this on our wall, it is a great place to keep track of all of Rebecca's library books, and when I am going through her book shelf I will pull books we haven't read in a while and put them up there to tempt us. The design lets you see almost the entire cover of the book, which I really like. (And you get more book area for less fabric, hahaha, gotta fit it in one yard, and I wanted it BIG.) Also I love looking at this fabric! I got it when we were visiting Tokyo so it always makes me happy. Rebecca and Trish wanted me to send them this original, but some of the screen printing came off when I pre-washed it (for all I know I bought it from a bin 'clearly' marked (in Japanese) "Flawed Fabric, discount!")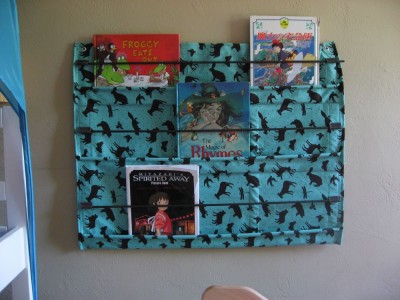 So I made them another one with this Ecco print. I like it too! (It is a little bunched at the top because I hung it on the same nails as my original which is a little bit narrower.)
Third and most, um, 'unique' project: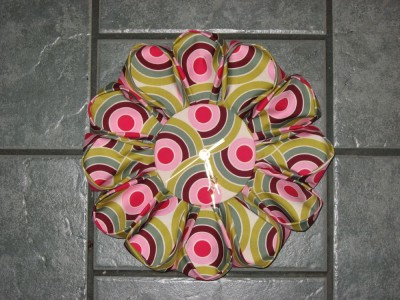 You've probably seen the folded cloth flowers on traditional Kanzashi (Japanese hair sticks), well, I was thinking about my fabric origami project (Origami Organizer) that they had liked last year, and I had a clock movement that I was going to use to fix an antique dysfunctional clock, and well, I don't think it is quite the 'wow' project that the first was, more like, hrm? Ha! I envision it adorning the office of some of the more interesting admins I've known. I designed it for brocade – wait: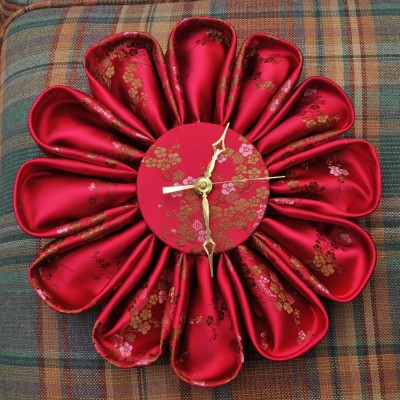 Also totally flamboyant, but more Rococo/opium den than the modern print in the book. I should have fussy cut the pieces for the book version of the clock, so that the spots would have all come out in the center of the petals, or something, but I thought that might be cheating, since it would *technically* use more than one yard of fabric. I know, I can't believe myself, I am such a rule follower! I follow rules that I think might exist. Ha! And I worry that my oldest daughter is such a rule follower… I need to work on me before I worry about how to help her!
So, which would you make?
And, oh, the giveaway, Storey publishing is generously giving away a copy of Fabric-by-Fabric One-Yard Wonders as part of their promotional blog tour, comment to enter. (This draw­ing is for US res­i­dents only, sorry!) [edit: giveaway will be open until Friday the 6th, because that is when I will have time to close it.
] So do tell me, which one of my projects would you make? I'd love to know. Or if you've seen the book, what project most strikes you?
Giveaway is now Closed!
Hmm, what would I make? There are a lot of bags and clothes in this One-Yard Wonders, much moreso than last time it looks like. Having never sewed a purse, maybe I should give it a try. Probably not though. Maybe the Drawstring Tidy Caddy (practical), perhaps the Tuffet Inspired Ottoman if I could find the space for it in our tiny crammed house (I really like the funky but simple geometry of the design), mmm, The Monster Backpack (Domo-kun!) would be very popular around here (super cute opening mouth with glottis!), the art (Toddler) smock would be pretty useful around here too, although I am *not* making all that bias tape. The Pig & Piglets! So cute how you can stuff the baby pigs in the mom, and they have little velcro noses to nurse! (But so much sewing!) Also squee worthy is the Little Girl's Capelet! I wonder if I could talk Penelope into that… So what about you?
And don't forget to check out some of the other blogs in this tour, past and future, for more chances to win copies of the book, and just for some good inspiration! The ikatbag review is especially nice if you want a review, & I just LOVE her blog! So much crafty cardboard goodness.
12/12/2011 Becka's Project Journal
12/13/2011 Craft Buds
12/14/2011 Patch Work Duck Designs
12/15/2011 A Spoonful of Sugar
12/15/2011 Nifty Kids Stuff
12/16/2011 Nom Nom Nom
12/16/2011 Quaint and Quirky
12/17/2011 ikatbag
12/17/2011 Two Brown Birds
12/18/2011 Sharon Sews
12/19/2011 LBG Studios
12/19/2011 Carolina Fair Designs
12/19/2011 Under Construction
12/20/2011 Little Blue Cottage
12/21/2011 Craftzine
12/21/2011 Neuroses Galore
12/21/2011 Emily Steffen
12/22/2011 Jenna Lou Loves You
12/23/2011 Spincushion
12/27/2011 One Inch World
12/28/2011 Sew Sew Etc.
12/29/2011 While Tangerine Dreams
12/30/2011 Studio Cherie
January '12 Lu Lu Carter
January '12 Fiberosity
January '12 Zuhause
January '12 Obsessively Stiching
January '12 No Bad Days
January '12 Craft & Cackle
January '12 AfricanKelli