A Piece of Cake Reading Pillow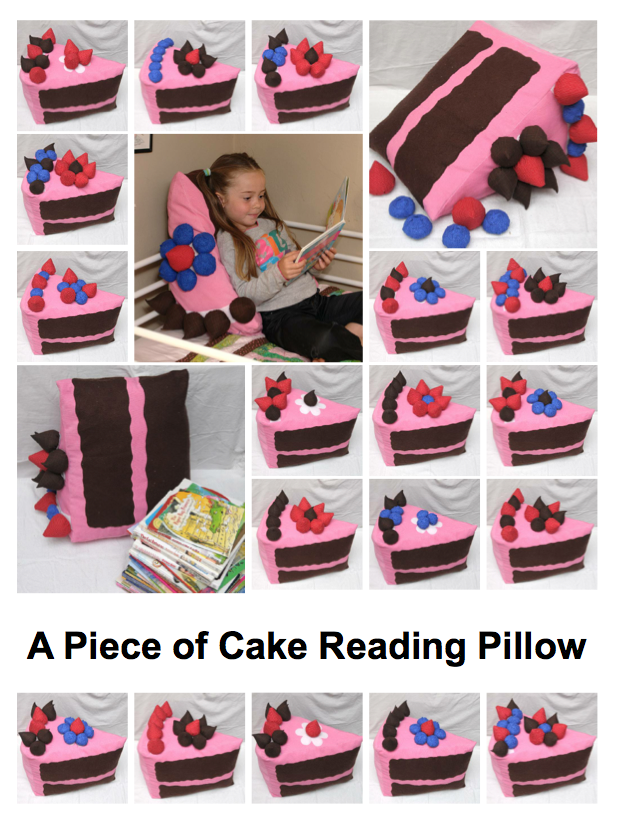 Here is the current cover for the third pattern I am working on finishing for the next One Yard Wonders book, which I am also planning on releasing in my Etsy store, otherwise I wouldn't need a cover. Anyway. Currently it is too busy. Do you think it is too busy? But I had so much fun rearranging the toppings on the cake. They velcro on you see.
So far this pattern is 14 pages long, not including the 8 pages of pattern pieces. There are a lot of pictures, it isn't that it is particularly complicated. Very simple really. But there is the cake, and then the blueberries, and then the strawberries and frosting puffs which at least use the same construction and thus the same instructions. Lots of pages.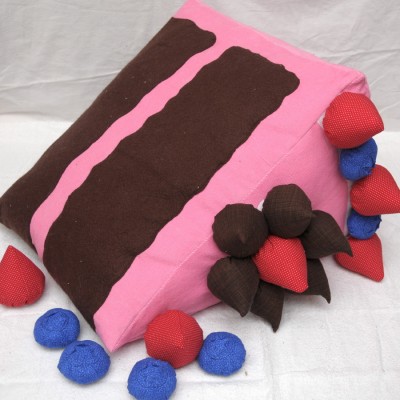 You can see I ended up with simple frosting puffs, not any of the super tailored ones I was contemplating. I think this was #2 of 11, or something ridiculous like that. Thus my usual lazy approach of liking my work after 1, 2 or 3 tries is somehow vindicated… Maybe?
I realized as I was staring at too many pictures of fabric cakes today that it should have a book pocket on the bottom. But I can't change it now. I put in a 'variation' suggestion in the pattern, but I can't contemplate re-doing it again, I just can't, after working on these three projects really hard for almost four months now I would like to be really truly done! Okay, not descending into the pit of insanity. Not revisiting pattern, moving along, keep looking forwards.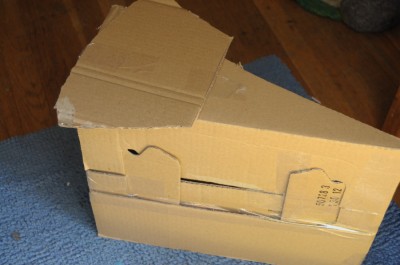 Photographing this pattern was really challenging, because the cake is so big. The first time I did it badly. The second time when I was making the sample for the book I realized I was going to have to re-shoot it, and I actually made a (sloppy) cardboard form that I could fold up and insert through the turning opening, unfold, and support the inside out cake so I could take a sensible picture of it. Or possibly I am too much of a visual perfectionist? The cover would be less busy if I went in and digitally removed the not-exactly-white sheet from the background, but as the Gimp just practically wrecked my hard drive I am out of digital retouching options since my ancient copy of Photoshop doesn't run anymore. I am *trying* not to be too much of a visual perfectionist, but that sheet does really bug me. Does the sheet bug you too? I mean, jeeze, I know I was in a rush, but at least I could have ironed the sheet… Or, really, since I got it in the mail only minutes before I had to leave for my daughters camp art show on the last day before flying across the country, maybe I really didn't have time. It's possible.
So do you think that cover is too busy? Probably? I'm sure if I let it sit in the back of my brain for a day or two that something better will come out. (Please?) There's plenty of photo re-doing that I need to do for the rest of the pattern to keep me busy in the mean time!