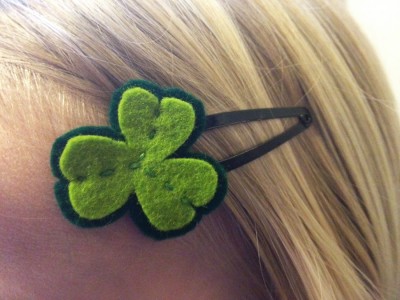 I whipped these up in the scramble to get out the door for school Friday, because I realized that they would be celebrating St. Patrick's Day on Friday at school, although my brain hadn't caught up yet. We even made it to school on time, although I did have to 'rush my head off', so I know these are quick.
I just drew three hearts in a circle, cut them out in felt, put that on a darker felt and cut around with a border. After cutting I found I needed to go back and snip the points at the tips of the leaves and in between the leaves, because cutting a pattern out of felt never goes as cleanly as I would like.
A quick running stitch to add texture and hold them together, then whip stitch them onto some plain barrettes.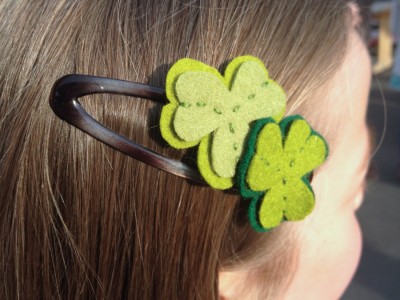 For my older daughter I'd recently bought some extra large barrettes for her thick hair, so I whipped two shamrocks on.
Did you make anything pretty for Leprechaun Day?