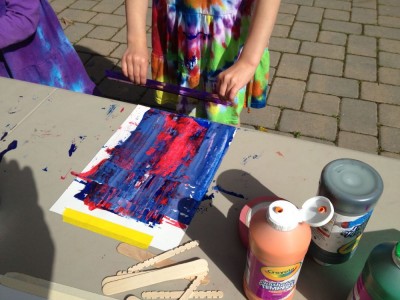 Such a lovely title, reminds me of the pain of refinishing furniture. I think the last time I scraped paint for real was when we stripped off the paint on our kitchen cabinets and refinished them with a clear coat. Horrible lot of work, I'm so optimistic jumping into projects. Moving on, moving on.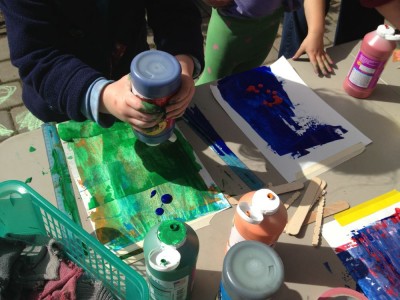 This project, thankfully, has absoloutely nothing to do with refinishing cabinets or chemical paint removers. Instead it has to do with the abstract works of Gerhard Richter a German painter. You can find videos showing a bit of his working process if you are interested, it is pretty interesting.
I got this fascinating project from Léon, Pas Sur Le Murs! via The Crafty Crow.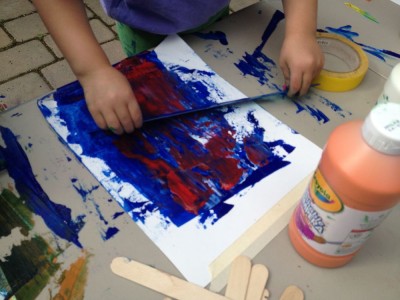 Unlike her version we skipped the spreading a base paint layer with a brayer step, and just went straight to drizzling paint and scraping it with rulers and fat popsicle sticks. Worked fine, good thing, since I only own one brayer.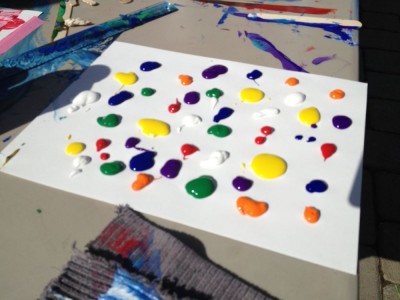 Quite a lot of experimenting (and copying) happened. What happens with drips and blobs instead of lines?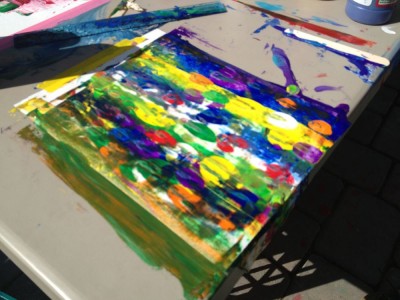 Ah. Too bad the photo is blurry!
I would say the only downside to this project was the great drippy blobs of paint that ended up on the ground. But some water and a scrubby broom took care of that. Many of the kids went away with paint smeared across their legs or chest where they scraped it right into themselves. I love that then they are so surprised to be covered in paint when they step back, they are too absorbed in the work to notice they are using their tummies to take the extra paint off the scrapers until they step back to reflect.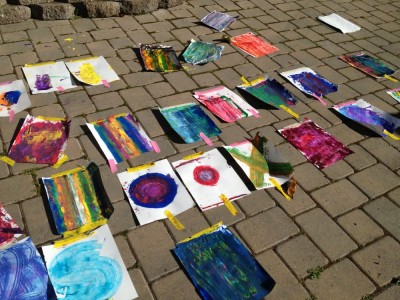 So many experiments. Dragging in circles, wiggly lines, many layers of paint… And it was another fabulous exploration for the moms too. Like dyeing you can get lovely unexpected results and don't have to worry about 'skill'. I thought it was a wonderful open ended exploration of the properties of paint.