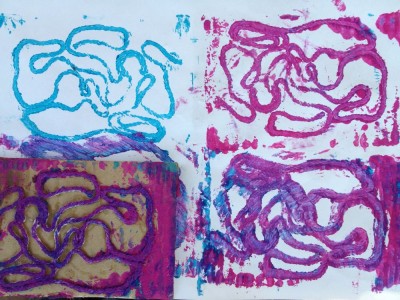 I got this project from one of MaryAnn F. Kohl's books. I think it was 'Primary Art'. The basic idea is that you glue string to a backing in a pattern, ink it with a brayer and use it to make prints.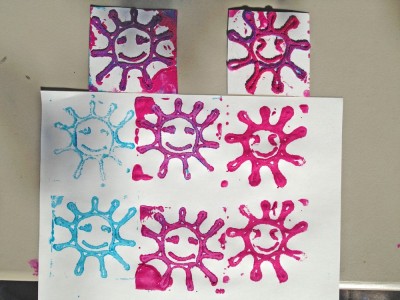 I tried both cotton (the two rows on the left) and acrylic yarn (on the right). The cotton was denser and did a better job staying where I put it, the acrylic yarn kept springing open when I bent it (it made angle eyes rather than blobs), and when I inked it the acrylic yarn took too much paint and made a gloopier print. So I used cotton with the kids.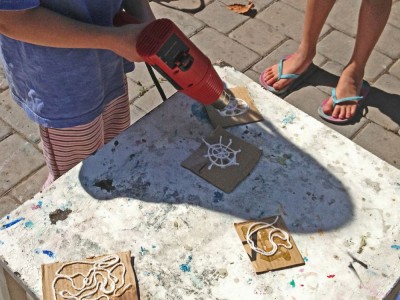 After drawing a picture with the glue and sticking the yarn down we didn't feel like waiting 24 hours for it to dry, so we used our trusty dusty heat gun, and although we browned some of the cotton we didn't catch any of it on fire! Yay! (Do I let the kids use the heat gun? Yes, of course.)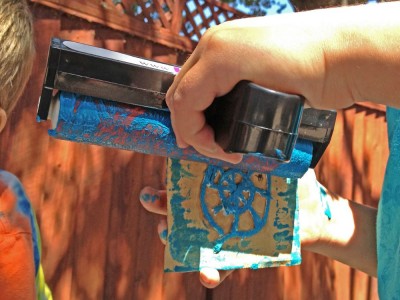 I found the soft brayer did a better job applying the paint to the yarn. I'm not a brayer expert, so I just had one of each. We used styrofoam meat trays to hold the tempera paint, that turned out to be a bad idea, because it was too slippery. When you rolled the brayer over the paint (especially the 'hard' one) it just squished the paint out of the way. Boo! I don't know how to use a brayer!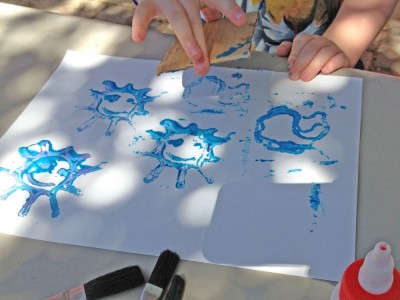 Stamping was fun! Some of the parents colored their stamps in fancy op-art patterns, but I didn't get any pictures! Woops.