Comment this week, get a chance to win free stuff!  I know, I know, the Sew Mama Sew rules specified Give-Away *Day*, but this is a weekly-ish blog, so that just wouldn't be fair around here.  So comment anytime in the next week, comments will close after my daughter goes to bed on Tuesday the 9th, and a winner will be announced the next morning, after I get through reading the comments.  
But not just any comments, your comment must contain the name of your favorite craft blog, and if you want to get a double chance to win, also include the name of your favorite blog or website for fun educational games or crafts to do with two to three year olds.  Because that's what I need more of around here.  :-)  I don't expect everyone to have one of those, that's why it's the bonus chance.  I'll print out everyone's names once or twice (or heck, maybe three times if I really like your blog suggestion) and have my daughter draw one of them out of a hat.  So it'll be random, but perhaps skewed towards my favorite responses.  Because I get to make the rules.  I never get to make the rules… hahahahaha er, maybe I need to go to bed.  But I'm not done yet.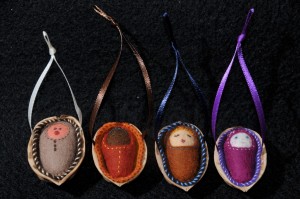 What do you win?  What do you want to win?  You should put that in your comment too, because I'm curious what everyone would pick even if they don't win.  Your choice of one of these super cute walnut babies (100% wool felt, cotton embroidery floss, polyester stuffing & one genuine local pesticide free walnut shell) to hang on your christmas tree or tuck in a doll house (that's what my daughter does), or a set of 12 felted ravioli (ecospun felt made from recycled plastic bottles and cotton filling).  I'm obviously scatter brained, because my natural fiber craft is stuffed with polyester, and my plastic felt is stuffed with cotton.  That's just what you get around here.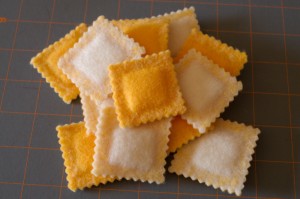 I wanted to start an Etsy store, that was my motivation for finishing these four walnut babies (I would have made the babies, but never lined their shells properly because that isn't as fun).  But in the end it takes me too long to make them to sell for any reasonable price.  From start to finish they take me three hours I think, tiny tiny stitches, although it's a bit hard to time, since I have a two year old my crafting is done in 20 minute intervals half of them at the playground.  But if I were to follow pricing formulas, just for wholesale I should be paying myself something like $10 an hour which works out to $30, then with outrageous x2 or x3 calculations for retail that would come out to something utterly ridiculous.  I'd be perfectly happy with the $30, but I can't imagine anyone paying that.  So instead I'll give them away.  Because free is better than underpaid, or, um, something.  Yah, it's past my bedtime.  Maybe I'll open an Etsy store next week, but really, I already have at least two jobs and I need to be kinder to myself.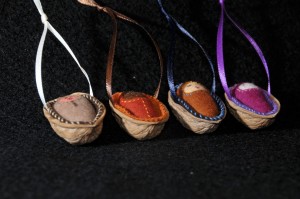 Walnut shells. What would you do if you had a bag of walnuts from your friends tree? They must be crafted with. Next I want to make sailboats. Too many projects. Too few hours until my daughter wakes up. Must go to sleep.
So leave me a comment, I *will* ship internationally, make sure to get your email address right, give me a craft blog and an education blog and tell me what you'd pick if you win.  I'll email the winner for your address on the 10th. And check out Sew Mama Sew if it's still December 3rd to see a list of other blogs having give-aways.