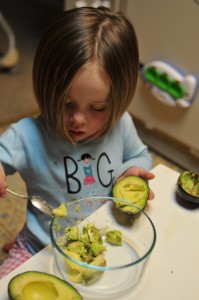 Look at that absorbed concentration! Present your child with some halved avocados, a spoon, a bowl, a masher, and an open jar of salsa and they can make guacamole for dinner for you. Or at least start it.

Important and appreciated work for the family. Also great fine motor work and strengthening with all that scooping.
Notice the haircut? That was a christmas morning present. She's been wanting that consistently for quite a while, and now that it's done I like it too, surprisingly enough! (I'm firmly in the long hair camp myself.) She slouched quite a lot when I was cutting off her ponytail, when it was off and she straightened up I was rather shocked at how short she had managed to get it without my noticing! Chin length in front, but up above her hairline in back. And so she ended up with a reverse bob, because that was what happened, and it was practically instantly exactly the haircut that she should have had, no getting used to it period, no who's child are you? And I would have had no idea how to get there if it hadn't happened by accident!