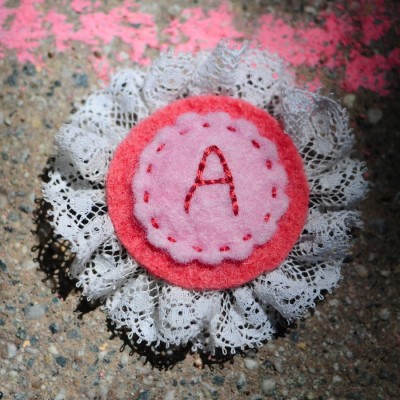 Rebecca is 4, which means that she gets to pick out the birthday presents for her friends, and while I may retain some veto power, and can provide suggestions, it's really her show. But sometimes *I* want in on the fun too! So I made this barrette for one of her fashion conscious friends who was turning 3.
As usual I was planning an extravagant set of six barrettes, some leaves, flowers, an apple, an 'A', but reality set in, and I only ended up making one, which with all the hand stitching took me at least an hour, possibly two. I'm really not very fast with my hand sewing I guess. Too much of a perfectionist. When I was gathering the lace for the back I carefully took a stitch in the 2nd and 4th holes of the lace, pulled them together with the 0th and then tacked it down with a back stitch. Please, I'm gathering lace to the back of a barrette, not counting cross stitch, but I have a really hard time going fast. I find slow and precise relaxing, but frustrating at the same time.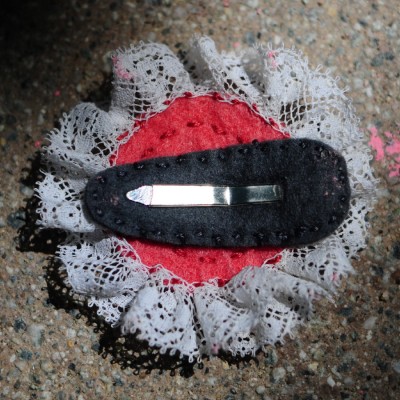 To make this barrette cover I traced the barrette, cut two, clipped a hole for the back prong of the barrette, and with the barrette in the center sewed them together with a running stitch. Then I whip stitched the monogram/lace stack to the edges of the barrette.
I have been doing a ridiculous amount of cooking and fermenting and sprouting rather than blogging recently. I think I have 4-5 containers of various ginger ferments, 3 jars of somewhat suspicious pickles, I made crackers and quinoa milk today for heaven's sake. I idly think about blogging as I'm cooking, and sometimes take pictures, but I don't really think I should diversify this blog any further, it's already gotten pretty unfocused from where I started! And sometimes that bothers me, but not enough to do anything about it yet. Would you like my blog better if it was my crafts only or children's activities only?