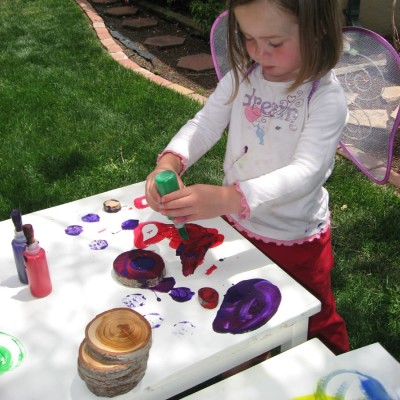 Sometimes you just need a different canvas.
Step 1: Scrounge around on trash day, someone will have tree trimmings out to be collected. Free is good.
Step 2: Slice. We used our handy dandy bandsaw, but a hand saw would work fine.
Step 3: Paint. We didn't do any sanding, it's all about the process! Besides, the wavy saw marks gave it some interesting texture.

The girls also used these for stamping on their paper, monoprints (or tri-prints) of painted wood. The texture and irregular shape made these fun printing blocks.
Once you are done decorating them you can add them to your block collection too! Or they can be doors for hobbit-fairy houses. There are so many things you can do with flat rounds of wood!