Rubbery Flubbery Gak – Art Playgroup Friday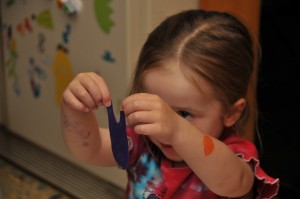 Our playgroup is still going, no sign of baby #2, other than too many Braxton Hicks contractions. On the one hand, I'm ready for the baby. On the other hand, I think babies should stay in the womb another three months, because they come out half baked as it is.
This week the girls mixed up a big batch of gak, which bounces, stretches, rips and jiggles. It's the borax-glue version, which we made with purple tempera paint this time, and it is an excellent tactile substance for little ones to get their fingers into. We didn't let them dissolve the borax, but other than that they are great little pourers and mixers.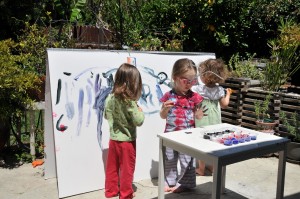 We also did some big painting on a foam core sandwich board large pieces of foam core board make great huge white expanses to paint on. It is a little extravagant and not particularly ecological though. I bought this for Rebecca's party, then turned it inside out and painted the third side this group. Someday I'll salvage a large whiteboard and turn that into a washable easel, reusable rather than disposable.