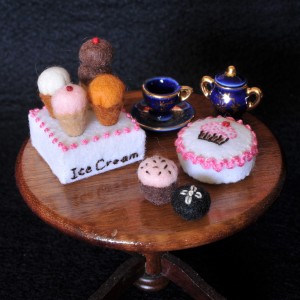 Things have been a little slower around here since pennyloaf came along, but I have been working on some tiny felt dollhouse food. I'm planning on sugary treats and a farmers market basket full of vegetables. I'd like to draw up a pattern and instructions for them and possibly sell patterns or kits on Etsy, but I've had similar goals before. This time for sure! Always an optimist.

So far I've made ice cream cones and an ice cream cone holder that looks sort of cake-ish, and a cake (with, um, a cupcake embroidered on it…) and a cupcake and some cupcake tops that need bottoms. Lots of tiny hand stitching, and since it's dollhouse scale (the cake is an inch across) it's easy to carry around to the playground.
I'd like to add some plates and cookies and a box for the cupcakes. Then of course there's lots of photos and instructions before I can call the project 'done'. We'll see.