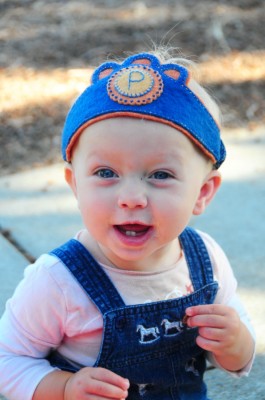 So this night weaning thing has been rougher than I was expecting, two and a half weeks since my last post, wow! I think that's a record. And while normally I might post after the girls go to bed, I'm writing this at 6:30 in the morning. The first week I was useless and made myself sick from not getting enough sleep, but I'm mostly functional now, and getting about the same amount of sleep I was before, while spending an extra hour or two in bed… woo. We aren't nursing at night, we also aren't sleeping. Who is winning here??? So far, no one. Right. I'm starting to think about buying a new bed (for me) and coming up with a new plan… But meanwhile.
A month and a bit ago, with great rejoicing and an enormous built-by-mom-and-dad piñata with pop bottles and, right next post, Penelope turned one. Yes! We have met the basic infant survival goal. And I made her this cute little birthday crown. There are tutorials around if you want one, basically I cut the orange layer, sewed it down to the blue layer, leaving holes at the edges to insert the back elastic, and then trimmed the blue layer to fit the orange one. I always trim the back layer last, it makes it neat. Then I handstitched a casing for the back elastic out of crinkly blue kimono silk from a scrap bag I bought in Tokyo Fabric Town, which I have been hoarding. I slipped the (loose) casing over the elastic, and tucked both the casing and the elastic into the holes I'd left at the edges of the crown, and stitched both openings closed with a running stitch matching the rest of the running stitch embroidery. You're just going to have to imagine all of that.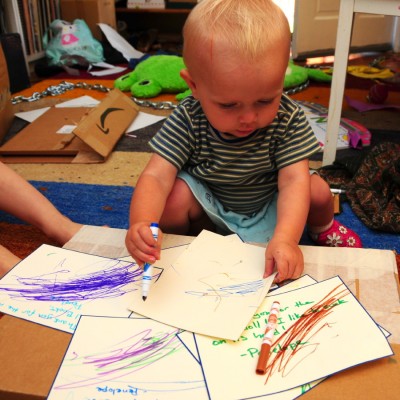 Here's my little diva working on her thank you notes. I feel like thank you notes are such a great fundamental thing to work on with your kids, involving gratitude, personal narrative, and writing/drawing skills. I am good about getting my kids to do them promptly, and then I fall down on the distribution! Since Penelope started scribbling like mad around when she turned one, she was quite happy to sit through all 10 or so thank you notes, scribbling on most of them with several colors. I was expecting her to get through about three before loosing interest, but I was neglecting the power of big sister worship. Because after all, Rebecca spends a lot of time drawing, so now Penelope does too. Also, she can get the tops off the little crayola markers herself, so if Rebecca leaves one lying around, watch out!