Mushroom Barrette Giveaway
I've been sewing a lot of barrettes recently. I think I should always have some felt cut out to take with me and sew, like a knitting project. I manage that at the playground sometimes, but mostly when I find myself sitting somewhere I am sadly empty handed. Boo! I have been doing a bit better recently with these barrettes, because, I don't know!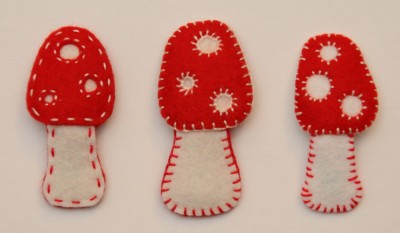 I think these mushrooms are cute though. Which do you like the best? The first is made with a running stitch, the second with a blanket stitch, and the last I made tonight with an alternating length whip stitch.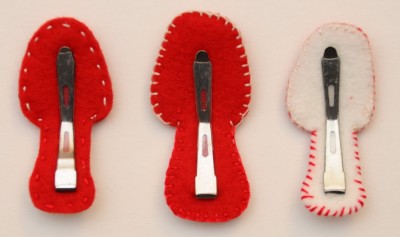 Here are the backs, so you can see how not perfect I am! The first two are backed in red felt, and the last in white. Not paying attention!
I will give one of these away. Just comment with which one you like the best, and if you win, you will get that one! You get an extra entry for blogging about my giveaway. (I'm going to have to start blogging about other people's giveaways…) Giveaway closes on the 30th. Feel free to tell me that if my whip stitching were neater, you might pick that one, but given the particular instantiation of hole size and cap shape you like the running stitch, or whichever. I'd love to hear your opinion!
[ And while I usually reply to all comments, I don't generally reply to all giveaway comments.

]