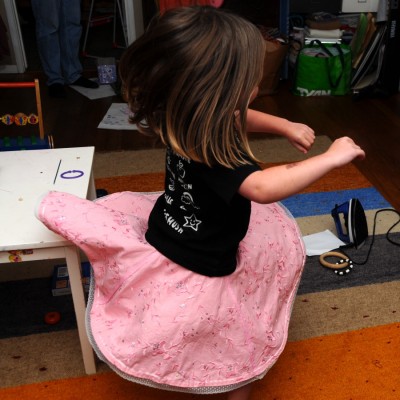 Here is a beautiful skirt we made based on the under skirt from the Insa pattern from 'Sewing Clothes Kids Love'. This is the third time I have sort of used this pattern. (Here is the second.) I don't think it really counts this time, because I changed the curves, and I realized at the end that it was basically a circle skirt (but sewn out of four wedges), with a straight waist. Not very fancy fundamentally, although there was lots of subtle pink ribbon trim following the book's philosophy that more trim is better trim.

The fabric is really the lovely part though, it is a cotton faux linen, covered with floral embroidery and sequins that I got half off with a coupon from Jo-Ann's. (Really it seems that their entire business model revolves around getting people back in their stores to use coupons, and if you pay full price for anything it is ridiculous… Not my favorite game.)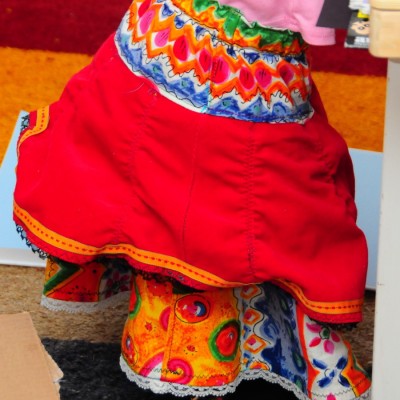 Hey, I never posted the first one either, this one was for a friend's daughter, I probably wouldn't have picked these fabrics out for a skirt, but I really liked it when it was done. You can't really tell from the photo, the red fabric is a fine corduroy, actually the same that I made my own red skirt from. It made a nice skirt the first and second times, corduroy has a nice weight.
Did I make either of these recently? No. My life for the past two or more weeks has been devoted to reading the good, the bad and the crazy about Waldorf schools (no black crayons? Anthroposophism? There seem to be some pretty bitter ex-waldorf parents, but everyone I've met involved with Waldorf has been really really nice) and trying to decide if we want to go through the admissions process. Most of it seem very cool, and a lot of it aligns with our personal values, we actually have no TV, (we do watch movies on laptops sometimes), but it is so expensive here. Maybe we could get financial aid, but I've always *hated* bargaining. Also our lease came up, so we had to re-evaluate the whole rent/buy thing. Where we live the rent/buy ratio still makes it much cheaper to rent an equivalent house than buy (using the simple numbers OR factoring in all those headachy numbers like maintenance and property tax exemptions.) Major life decisions and uncertainty. I've been getting pretty depressed with all the uncertainty. The other kindergarden we'd like, Stevenson PACT, is a lottery, and we won't know whether we got in/where we are on the wait list until the end of March. Bleh. Maybe I should make some more twirly skirts for morale? I have been making fermented pickles like crazy, using a new-to-me no-mold-skimming fermentation lock process. (I know, mold on your pickle brine is fine! No. I do not feed my family things with mold on them, or near them, or whatever. I can't get over it. Yuck.) Two thumbs up for no mold and yummy pickles. Something to be positive about anyway.