St. Patrick's Day, Pattern Tester Please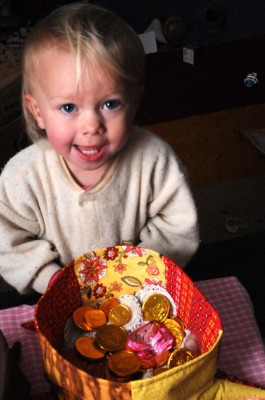 We like St. Patrick's Day. On St. Patrick's Day all the Leprechauns around the world swarm out, looking for new homes and nice places to stay in the coming year. Maybe they're tired of their old home, maybe they've multiplied and need a little more space, I can't say. So we make beds for them, and find in the morning that they have left chocolate coins sprinkled about, as if to say, thanks for the effort, but we're not moving in this year. Someday perhaps we will get a Leprechaun to move in, but we aren't upset with the chocolate coins and occasional jewel.
This year Rebecca chose to use the soft tree bowls I've been working on to turn into beds with some lace doilies we had out for 'tea party week'.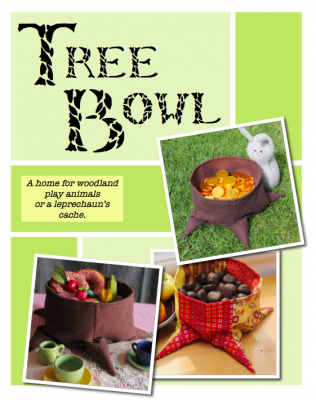 Would you like to make one of these lovely hollow tree stumps? I'm sure you would! Would you like to test my pattern for me? I know you would!
To qualify you need to either have a blog, or have commented on my blog before when it wasn't a massive cross-blog giveaway day. This is really just so I know you are a real person, if you have another way to show me you are a real person, by all means let me know.
Comment on this post, and I will choose one person to get a free pattern to test. You will need to have 2/3 yard of fabric and medium/heavy interfacing, and it will probably take about one hour (maybe more?), if you are good at this sort of thing and don't have kids hanging on you. You are committing to have feed back to me by next Sunday (just let me know the parts you had a hard time understanding), or give me an estimate of when you think you could find time to do it in your comment.
[I'm giving the job to maryanne.]
Also, if anyone can come up with a nicer name than 'Tree Bowl' and I decide to use it, I will send them a copy of the pattern too.