Wood Shavings & Contact Paper
Hey there, it's 'art project Friday', or 'Friday art project', or something, I'm going to try to start blogging more regularly for a little while, with art projects on Friday, and things-I've-made on Monday, there, I've said it, let's see if the accountability is helpful!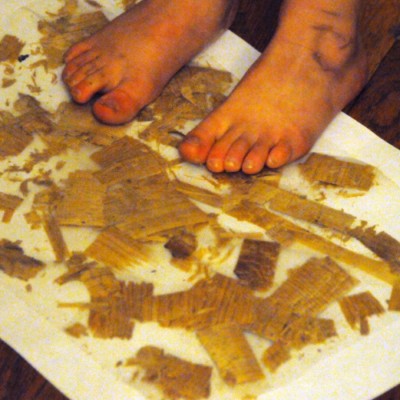 Contact paper is great stuff (other than being made out of plastic…), clear, sticky, fun! My husband has been planing down some boards, with a hand plane, resulting in a lovely pile of silky smooth paper thin wood shavings. We put them together. The contact paper and the wood shavings that is. These photos are awful, the wood is beautiful, it practically glows! (But it was a bit springy, we had to try standing on our collages to squish them a bit flatter.)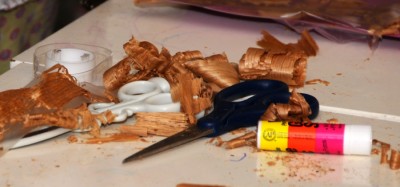 If you are not endowed with a hand plane and some spare butternut lumber, try some grass, tissue paper, you know… contact paper collages have been around forever, but the wood shavings are really really pretty! I wish I could think of something else for 4 year olds to do with them! I know there must be something brilliant I am missing. Fairy house roofs? We just made a lovely flower fairy house I need to show you… It has a flower roof though, it doesn't need wood shavings. Miniature books? It is paper thin, you can just cut it up with scissors. Maybe we could try some of those quilled wood things, but that might be a bit on the involved side? Make-your-own-plywood? Ideas?