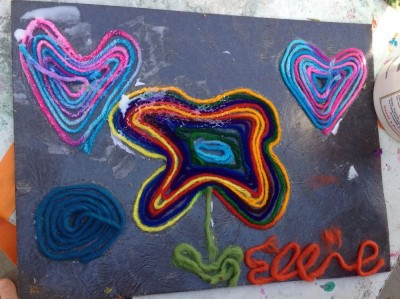 I bought sticky backed felt for a compeletly different project, and came across it while cleaning out our art closet. So this was a bit of a stash busting project for me. Really involved the kids though, and Penelope (3) just asked to do it again.
This is based on the lesson plan is from Dick Blick, String Painting. If you haven't looked through their project database before, you should, they have a lot of great art projects with cultural links. I confess that we completely left the culture out of this one, and focused solely on the materials. Because, mostly we don't teach, we just explore.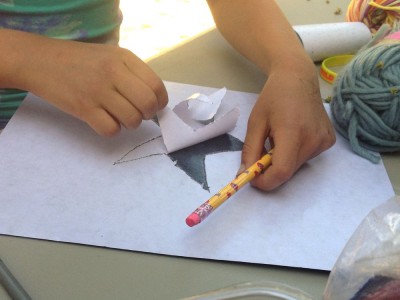 The gist of this project is that you draw on the backing of a sheet of sticky felt, and by pressing hard with the pencil you actually cut through the backing. Then you can pull it up one shape at a time, and lay string down in a pattern. (The lesson plan has you designing a drawing and then transferring it, but we skipped that step too. Whatev, we are 3-7!)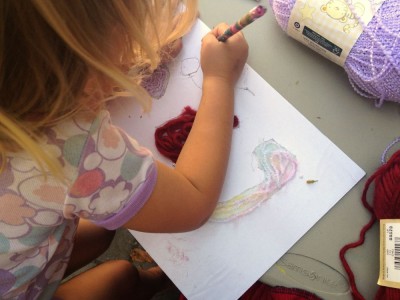 Penelope quite enjoyed the concentration that it took to push through the paper with her pencil. I think it is great hand strengthening work for small people.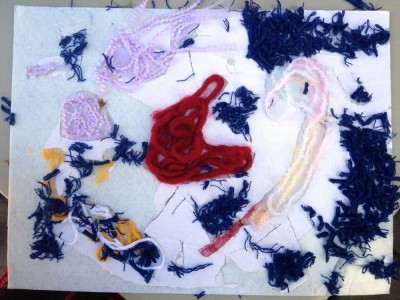 Of course, being 3, she is utterly unconcerned with the actual shapes, just entering symbolic drawing, but had a lot of fun with the tactile sticky and string. I started making her 'flocking' too, by wrapping yarn around my hand into a thick bunch and then snipping it into lots of tiny pieces, then it could be sprinkled and patted.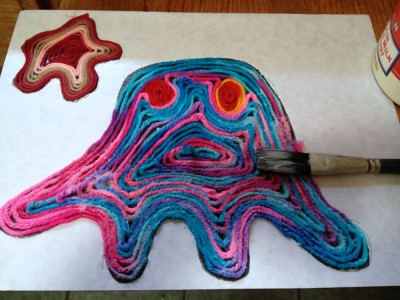 To make the project permanent, spread on some kind of watered glue. We just used school glue cut with a bit of water to make it less gloopy. Without this the string can just peel off again, which is nice while you are working with it, mistakes can be easily corrected.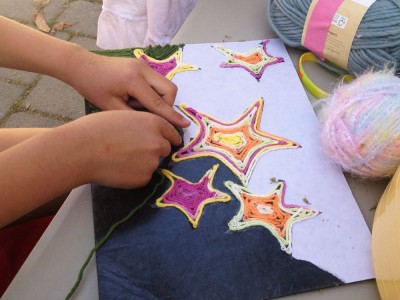 There was a lot of great concentrating going on, here is A. filling in the entire background of her star design.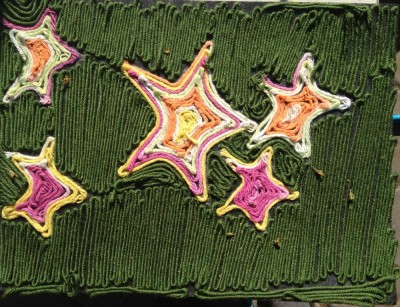 She put so much work into it, so cool!