There was no tutorial on Monday, was there? That's what happens when you are working overtime and coincidentally traveling across the country (taxi, plane, bus (okay okay, shuttle), rental car, carpool, boat. Oh well! Also our internet here was pretty non existent the first part of the week. Suck. After the excessive amount I worked the last two weeks (over and above the mom stuff…) I think I am mostly done for a little while though, so hopefully I can get on to some other things. But I can't lie, I have been squeezing in some felting, it is so fast and rewarding!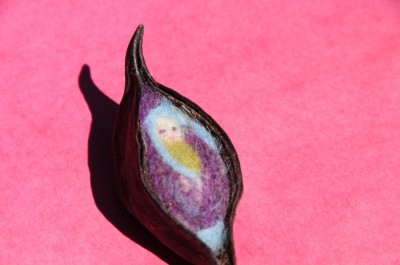 What a cute fairy! (I'm allowed to say that, right?) This took about an hour, the perfect easy project. And I've learned that if you want to make a tiny dot with needle felting, just don't move your needle, keep jabbing it up and down in exactly the same spot, and the random clump of fuzz you stuck on top of your project will eventually all get sucked into that exact spot. Eyes! And what is that amazing pod she is in?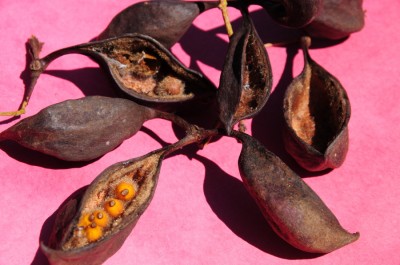 A Bottle Tree pod! (Brachychiton populneus I think.) These are so cool. Fortunately there is a bottle tree across the street from our library! And another more productive one up the street. Unfortunately they are covered on the inside with tiny cactus like spines that are apparently used for itching powder. Yuck! Luckily they are pretty easy to scrape out with a tooth pick. I am so in love with these things right now. I planted some seeds in our yard before we left, but I doubt they will actually germinate magically all alone while I am gone. When I get back I will have to see what I can do with any of the seeds left.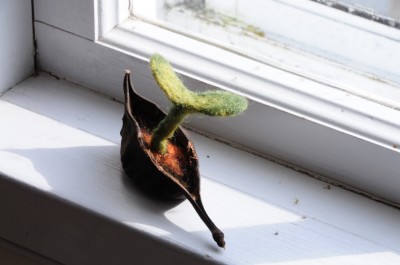 They make such great bases for needle felting little things! This sprout was a little tough, the first time I tried to make the leaves I totally over-felted the joint in between them trying to make it nicely narrow to join with the stem, and it weakened. I ended up just pulling the leaves off the wonky middle and re-felting them together and to the stem. I need to remember that felt is not clay, and it can get over-worked and fragile. With the do-over this probably took me more like an hour and a half. And I did some random wet-felting of it in the middle. Because if you can't mix up your techniques… um, that is boring?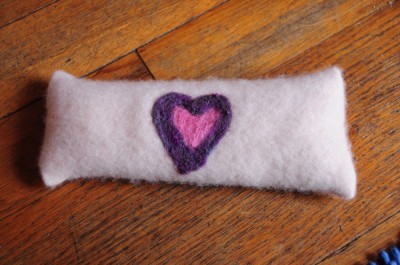 And here is a prosaic half hour project, a lavender rice bag, except it is made out of more of that cashmere sweater. I was immediately required to make two more for Rebecca and Penelope (this was for a sick little friend) and they started carrying them around everywhere calling them their snugglies. I need to find another Goodwill cashmere sweater, because this one is starting to run out!