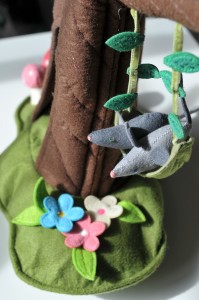 I've been working on my armchair tutorial, but that's still going to be a while, so here are some mice:
I made them using the pattern from Molly Chicken's Mousey and His Bed. I didn't follow the instructions much, but I used the pattern. I also didn't make the bed, although I think it's pretty cute, and since my daughter wants her own mouse now, although I think she may have forgotten about it, I'd make the bed for her.
These two mice have a much more fab house though, which I didn't make. It was a felt tree house for faeries on sale from the Pottery Barn Kids, a birthday present for a new three year old. I'm almost sorry I didn't get the other one they had for my daughter, because it's a hollow tree house with a leaf swing, how awesome? But she has too many toys. Also I hate buying things that look like I made them, but I didn't, because then people are always asking and I have to say, 'no, I bought that at the store. You thought I was cool there for a minute, didn't you? But no. HAhahaha.'
Anyway. You should go and make some of these mice, because they are fast and cute, even when you hand sew them with a blanket stitch. I think next time I might try making slits for the ears and putting them in with the bases folded in half perpendicular to how they are inserted now. Maybe.