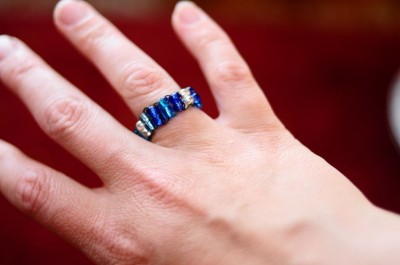 I have NO action shots of this project, how does that happen? Kindergarden has eaten my brain obviously. The girls had a fabulous time with this though, it took lots of concentration to weave the wire through the pairs of beads in each direction, but at least three of them finished rings, and they were so proud of them that they wore them all week. They were REAL rings! So exciting to see them excited!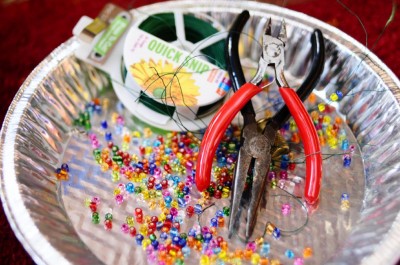 Here is our materials pile, glass pony beads, wire cutters & pliers, & thin green florist's wire that my husband got for cheep from American Science and Surplus. Along with the plaster cloth. I <3 those guys. We roughly followed the directions from That Artist Woman's Bead Rings post.
The glass pony beads made the rings a little thick, but they are large enough that they made the project go just fast enough to be satisfyingly challenging for a 5 year old. In another two years maybe we will revisit this project with seed beads. Because, you know, we have been meeting for three years now! June 4th, 2008, Wow! To think I had no clue what I was doing, but that is what being a mom is all about, no clue, but here's what we need to do!