Accordion Books – Friday Art Group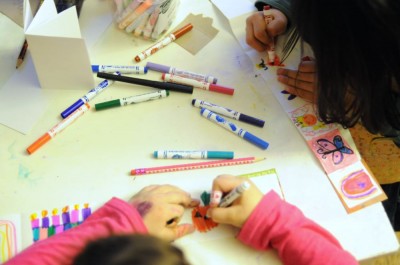 We love making books around here. Rebecca has been making a ton of those little books where you fold the paper into 8 sections (three folds) and cut through the middle then fold it flat. Susan Gaylord has a great page on making books with kids, and she calls these 'hot dog booklets', which isn't a very inspiring name. We call them magic fold books, at least I think we do! But no one else seems to. Where was I? Oh. Accordion books!
The basic idea is to cut a long strip of paper, we have lots of 12″x18″ paper, so I cut 2″x18″ strips, then fold them back and forth into an accordion, and glue two little squares of cerial box cardboard onto the ends. Done! Yes, Susan Gaylord has a page on accordion books too. She also has a lovely blog, and here is everything labeled accordion books!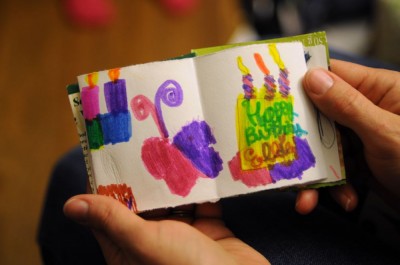 I recently (actually before Arts Focus started, so I'd almost completely forgotten about it!) bought Making Books That Fly, Fold, Wrap, Hide, Pop Up, Twist & Turn which has a heap of nifty books, now that I've just finished teaching this session of Arts Focus (although my brain is still there!) maybe I will be able to share some of the ideas in there with Rebecca. And thus you!
What kinds of books do you and your children enjoy making?