Thomas the Tank Engine Wagon Conversion
We had Penelope's 'friends' birthday party yesterday, Sunday. Saturday afternoon we started converting our cloth fold up wagon to a Thomas Engine for fun.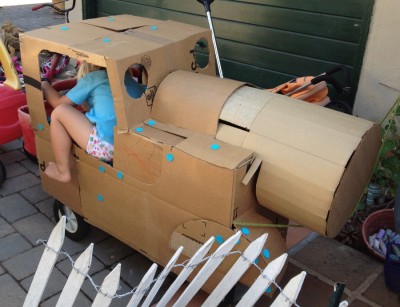 First we cobbled Thomas together out of cardboard, Make-Do and hot glue. Then I cut it in half, moved some parts around, and cobbled it together again – if only I'd started with a proper design sketch the whole thing would have required less cobbling, and actually held together!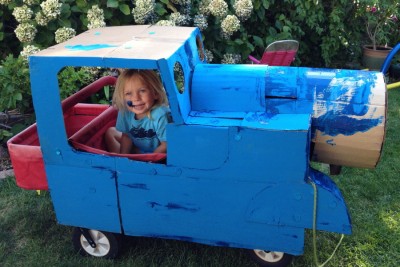 I let Penelope help me with the base coat, and then it was dinner time. I'd hoped to finish him *before* the morning of the party, but I still had some time after dinner! I knew most of the next morning would have to go to the final version of our Shrinky Dink Solar Oven.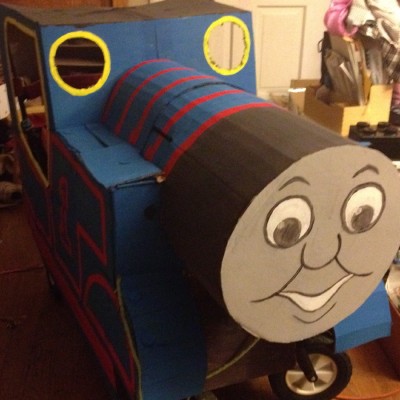 After the girls were in bed (and Penelope wouldn't be wanting to help) I got Thomas mostly painted. Up past my bed time, and I still wasn't happy with his face, but he was clearly recognizable. Even if most of his squares weren't square. If I'd planned ahead of time I wouldn't have had to use three different types of paint and some colored masking tape, washable black kids paint isn't exactly black, but perfectionism had been relinquished back when I had to cut Thomas in half and majorly re-engineer his proportions the first time.
The next morning I finished up his paint job, fixing his eyes, filling in his number and adding some black bits. I tried to get it done before Penelope woke up, but she caught me! Given that Thomas was in the middle of our living room I managed to convince her that she was only allowed paint if she was inside Thomas, so she decorated the inside of the drivers compartment. With sparkly blue paint.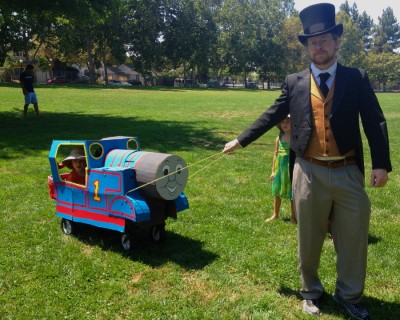 When it was time for the party Jesse dressed up as Sir Topham Hatt (luckily he happens to possess a top hat, tail coat and yellow vest… Now whenever he dresses up I'm going to have a hard time not needling him about posing as Sir Topham hatt.) and he and the train were a big success. It did of course fall apart, not enough time for proper structural engineering! Now I can't decide whether to fix it up again or let it pass into the night.
Do you make silly things for your children's birthday parties?