I saw this Valentines Day Busy Book over on Lavender and Limes a couple days ago, and it immediately went into my craft project ideas file. I tried to get it done yesterday, but although I finished the book in time for actual Valentines Day, (after my daughter fell asleep), I didn't have time to cut the hearts out until this morning. But holidays last at least a week when you're two, so she didn't care.
Here's the front, I had to tart mine up: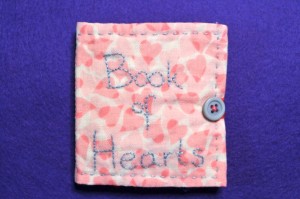 I really enjoyed embroidering the letters. I've sort of stayed away from that since high school, when I thought it would be a great idea to embroider poetry onto a cloak I was making, and it took about twenty billion times longer than I thought it would. Three words is just about right, nice and relaxing without getting really boring. I'm still stayin' away from poetry.
Also I got to use some more vintage buttons, which is always fun. I liked the light blue one on the front, although it did cause me to use too-light matching embroidery floss on the front. I had to use this quilting cotton rather than felt for the book, the hearts were too perfect, even the right size, I just trimmed a tiny bit off, so now I have one more tiny patch of this fabric. And this fabric is from her 'two year old' quilt, which makes it fun and connected. It's also filed with cotton batting to make it stiff. I changed nothing about this project. Really. I quite like how it came out overall, except that it's a little bit crooked and I made the ribbon button loop a little bit too tight.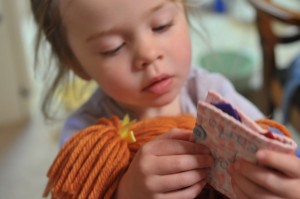 As an addendum to the last post, we also made little origami triangle boxes to hold the peppermint hearts that we made to give to some of Rebecca's friends for Valentines Day. After doing all the pre-folding and ripping for the box we glued wax paper on the candy side, and tissue paper on the outside. I wanted to make them out of red paper, but the only paper I had that was large enough was white. I think they are pretty cute though. I wanted to make more, but after three I was quite done. The rest just got wrapped up in waxed paper and tissue paper squares and tied with ribbon. Much faster.