Needle Felting as Applique or A Monster for Abby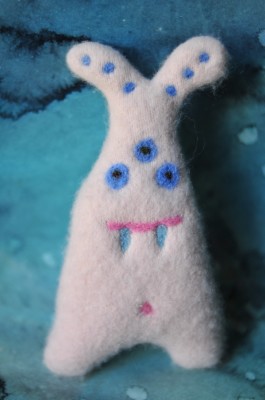 Needle felting is such a wonderfully simple technique, but so many people seem skittish about trying it. This is a stuffed monster that I made for a friend's 5 month old, it is a standard two piece turn and stuff construction made out of a felted cashmere sweater. It is SO soft! (If I ran the world all baby plushies would be made out of felted cashmere rather than plastic fleece or fur.)
The point of note is that rather than sewing on felt for eyes I just needle felted all of the features on. It gives everything a soft organic look, and you don't need to worry about cutting tiny circles out, tiny circles are easy when you are needle felting! To make a tiny circle you just take a few hairs of roving and roll them around in your fingers until they form a loose ball, and then, as everything with needle felting, just stick it where you want it and start jabbing the hell out of it with a barbed felting needle.
When I started needle felting I just bought a felting tool and started using it on everything. I got comments like "You can needle felt acrylic felt?" sure, it has fibers. The felting tool is good for tangling up fibers. It has fibers, especially loose ones, you can needle felt it. Remember the ravioli? I experimented with making those with printed quilting cotton on one side. You can needle felt quilting cotton?? Well, you can felt things *onto* quilting cotton. Tightly woven fabrics are pretty insistent on remaining themselves, but if you put roving or felt on top of quilting cotton, you can jab it through the woven fibers and create a free form applique on top of it. It helps if you then flip it over, you will see lots of fluff sticking through the back side of the fabric, scramble the back around and then jab it back through to the front side, and then back again, then with some fibers making a loopy round trip it will be quite secure.
Would anyone like some basic tutorials on I've-never-done-this-before needle felting?