Art Playgroup Friday – Easter
Every Friday I host a toddler Art Playgroup at my house, we've been doing it for about 3/4 of a year now, and it's so much fun. This week we were going to have an egg hunt, but no one came! Some weeks are like that, somebody's on vacation, somebody's sick, somebody made other plans. But we had fun anyway.
We started by making the string nests that everyone's been making, although we used a plastic-wrapped bowl rather than a balloon. Rebecca had fun cutting up the string, but she didn't want to get her fingers sticky. She was convinced when we made it a game where she was the mama bird making a nest for the baby bird.
Then we made Jojo Ebi's bunny ears, although we used sewing elastic rather than a rubber band for the back, because I was afraid it would get wrapped up in Rebecca's fine long hair.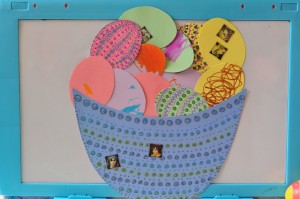 Finally we made some paper egg cutouts with magnetic tape thanks to No Time for Flash Cards' Foam Easter Egg Magnets. I was glad to have some magnetic tape that I got in Sea Bird Chronicles craft material swap from Lauren Pope. (Boy that was a lot of links.)
That was a pretty crafty Art Playgroup. Sometimes our activity is just 'painting with red'. Heh.