Fairy gardens are now officially an annual tradition around here, part of our way of celebrating Leprechaun day and the Fairies of the Spring Equinox. (Who theoretically leave you a present for successful spring cleaning, but our cleaning wasn't successful.)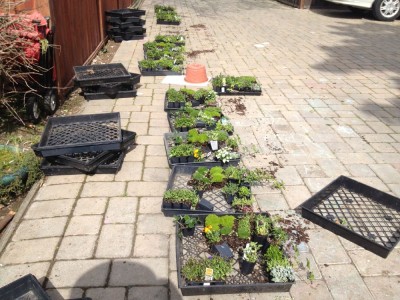 This year with art group having grown a little bit larger, as it always does, and most of the mom's wanting in on the action, I had orders for 17 sets of plants, which was a little overwhelming! (The picture only shows 13/17 sets.) I think last year we only did 6! I had a moment at the nursery where I realized that I might not actually be able to fit the required number of plants in my car, and I wasn't going to be able to fit them into one cart. In the end I used all available surfaces in my car, and I stacked all the sturdier plants. Exciting! What will I do next year? Who knows! (Oh, practice delegating, right!)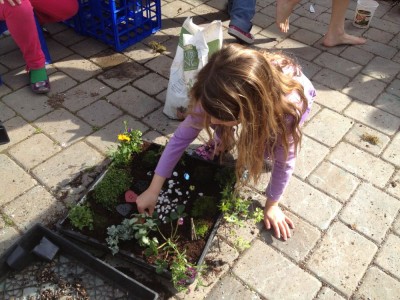 Lucky for me planting gardens doesn't require a lot of explanation. 'All the plants want to have their dirt at the same level', being the only often repeated one, some of the nursery pots were taller than others, and those flowers were often seen sticking up on little dirt pedestals out of the surrounding garden.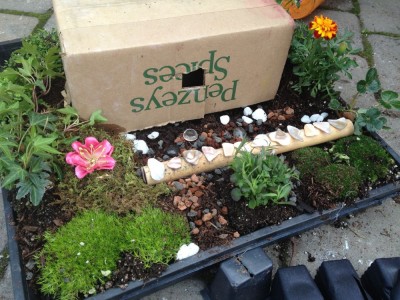 I had to go to two nurseries to get everything. First I went to el big box hardware store and, like I did last year, asked them for empty flats. They were all, 'what? we recycle those immediately. No you can't have any.' 'But you gave them to me last year!' 'I have no idea.' Um, thanks. I bought plants from them anyway. They had flats of Irish and Scotch moss (finally I know: they are practically the same plant, but the two varieties are differently colored) and blue star creeper, low growing staples of the fairy gardens, and much cheaper to get there. (I know, I am funding teh evil, but I was on a budget!)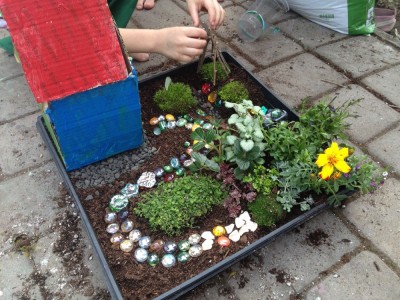 So then, after stacking plants up in my car and considering the insanity, I went to our local Summerwind. They were very nice! The gentleman in the front said, 'oh yes, do you see those large stacks right outside the front door? Take as many of those flats as you need.' 'Yes!' I thought. There were three 6′ stacks! I took about 2′! Why so many? They are rather flimsy, so I stack them 2-3 deep. This year we also added a layer of paper over the top, as most of the flats had a very large open grid pattern, suitable for holding plastic 6-packs of plants, but not dirt. I was also feeling a little shy and skittish about sifting through all their stacks to look for ones with finer meshes, and besides, only the first stack was really accessible.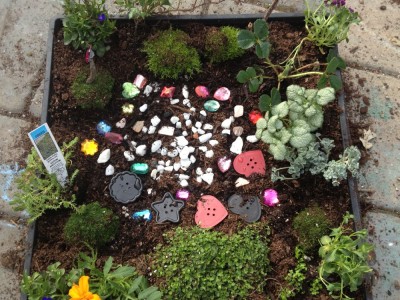 At Summerwind I also got many more interesting small ground cover plants, and spent the second half of my budget. In the end this year I think we had:
Irish/Scotch Moss
Blue Star Creeper
Baby's Tears (This has taken over a large section in front of my house from a small planting)
Sedum of several varieties
Creeping Thyme
Ivy, Marigolds, Alyssum, Lobelia and Ornamental (matting) Strawberries for height and interest. And I'm sure that the fairies will enjoy the strawberries!
In our fairy gardens from last year the Irish/Scotch moss did not do very well, but Chris said it did quite well in her garden. I think it must not like too much shade and damp. On the other hand, the baby's tears and creeping thyme seem to have loved our sheltered, damp, north-facing spot, and have taken over quite well. This year I made sure to get a wide variety of plants, hoping that at least some of them will do well wherever everyone's fairy gardens ends up.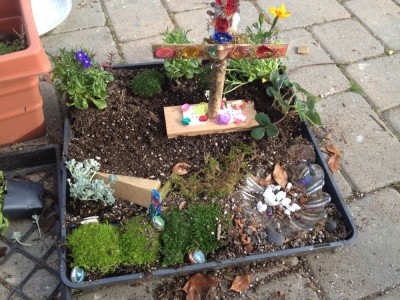 In addition to the plants we had a pile of wood scraps, twigs, jewels and other nic-nacks the kids put to good use with the glue guns.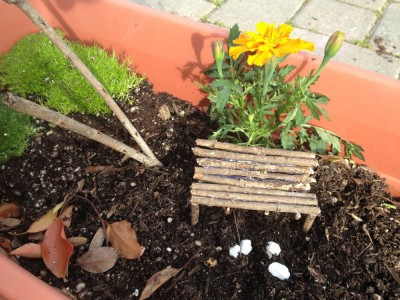 Alina and Yahui (I think) built this sweet little bench from twigs.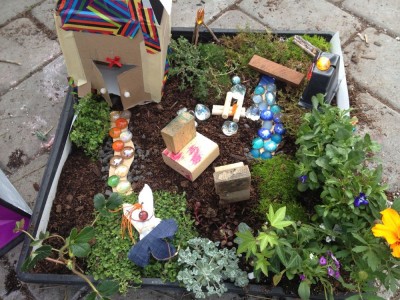 The cardboard houses were brought to the party by kids so excited about fairy gardens that they had to start early at home.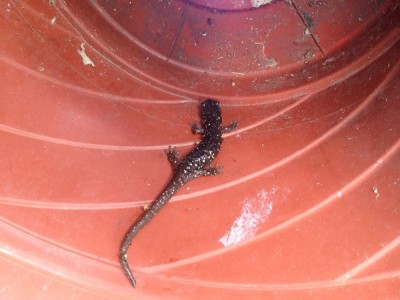 And when we moved the old gardens out to show, we discovered that we have salamanders! How exciting! I have found several around the yard now, and am wondering what we need to do to encourage them. The more (non-deadly) creepy crawly things around the yard the better! I found this nifty salamander identification page, Discover Life Salamander Identification Guide, which leads me to believe these are Aneides flavipunctatus (Black Salamander).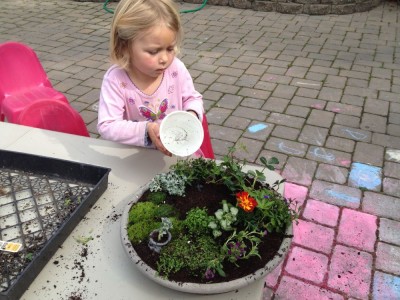 We had fun! Now we just need to remember to keep watering. I'm excited to see how the plants grow and change in the gardens this year!