I saw some beautiful work on an appliqued table runner by Calamity Kim and while I couldn't hope to match it without devoting a year of my life to it, I was inspired to make something mushroomy and house-y with raw edged applique and freehand machine embroidery.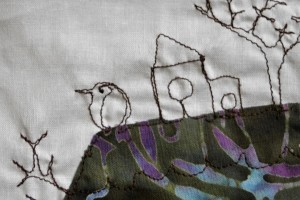 This bird is my favorite part of the machine embroidery I think, some of it is really awful. But that's what I get when I don't do any planning or sketching, and just stitch – really wonky stitch tension, and a broad spread of accidental awesome to ick.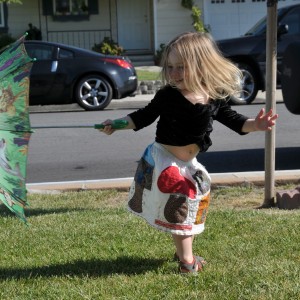 When I started out, my goal was a skirt. By the time I was done with the applique, I didn't think it really looked like a skirt anymore. But I forged ahead anyway, even though I'd put mushroom roots down past the hem line and birds up past the elastic casing fold line. Obviously I should have done a little more planning than "don't get too close to the edges." Because that didn't work so well. But whatever. I used the ribbon hem binding from the oliver+s lazy days skirt pattern. That may have been why I secretly wanted to make a skirt, just so I could try out that ribbon binding, it's so cool.