Now that I'm a parent I get to do all the cool stuff for my daughter that I always wanted… And I wonder why she has too much stuff, oh yah, because I like to shop at thrift stores and garage sales and I'm a pack rat. Hmm. I'm working on it. But not hard enough…
Anyway, the extra bonus about this project was I got to do it with my husband. Always a plus. He likes to over build things, I like to under build them, together we try to reach something reasonable.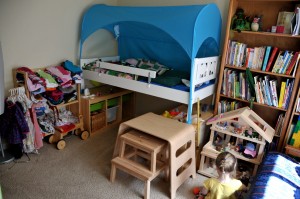 What is this? It's a starter loft. We lofted Rebecca's bed a whole 20.5″. With the 8″ clearance the bed had before, it's not quite high enough for me to sit under. But it's just the right sized cave for some three year olds.
The basic construction is two low TROFAST bookshelves from IKEA, (like the bed), stabilized with plywood screwed into the back (with a ridiculous number of screws in my opinion) and L brackets and bolts holding the bed to the bookshelves. Conveniently the wrap around velcro feet of the bed tent cover up all the bolts going through the bed legs preventing curious little fingers from trying to loosen them. Bonus! (The bolts going into the bookcase have the bolts hidden in the recessed cavity on the underside of the top of the bookcase.)
With the plywood backing these bookcases (which are also put together with lots of bolts) are pretty sturdy. Really the weakest point of the whole system are the bed slats. I think I could jump up and down on it if I wasn't worried about going through the bottom of the bed, and it easily passed the 350lbs test of my pregnant self and my husband sitting on it and wiggling.
Now I just have to convince Rebecca that the drawers that slide into the bookshelves are a great place to organize her toys, and are not in fact each a bed for a single doll. Sigh.