When you find out that your daughter has a birthday to go to tomorrow, with a solid schedule of playdates, naptimes and school between here and there, there is only so much you can do. But it turns out that is a lot! We put together this sewing kit for Rebecca's friend Anna. (Inspired by Bellgirl's DIY: Sewing Kit for a Pre-Schooler and my friend Renae)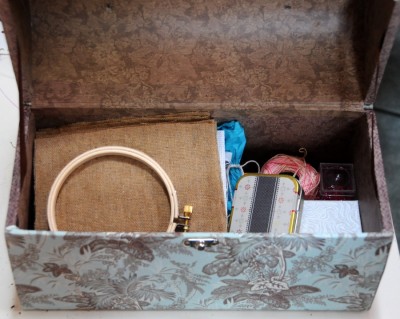 Start with a box. Actually we finished with the box, or maybe it came in the middle somewhere. Really, my husband saved me with the box. I was sitting in the middle of the kitchen, in the middle of a whirlwind of scraps trying desperately to decoupage a shoe box into a nice sewing box. I had a vision, but it was sticky slow going, it wasn't going well, and I was quickly running out of time. He pointed out a nice box I could re-gift instead, hurray! (Thanks Ma, your gift turned out to be super useful, and exactly what I needed, just not in the way you intended!)
Add some loose woven canvas squares (ours is thrifted, I think it is wool, it is super soft, but serves the same purpose as sewing on burlap, but much nicer.) and squares of cross stitch fabric you have lying around, and an embroidery hoop.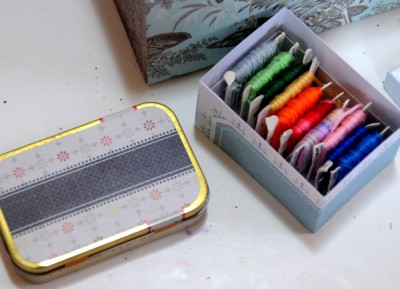 Gussy up an Altoids box with some fancy paper (I love double sided tape) and fill it with buttons. Buttons are great fodder for beginning sewers.
Turn a cardstock jewelry box into a great little embroidery floss box by wrapping it with scrapbooking cardstock to make it taller. (More double sided tape!) The lid still fits on fine, and it is just the right size now, hurray! I think this making boxes taller trick would come in useful lots of places.
Toss in other random bits and bobs because you always go overboard that way. A box of pink beads, because sewing beads on is fun (as long as you make sure the holes of the beads are sufficiently larger than your needle size, seed beads are not fun for 5 year olds to sew with, glass pony beads are great.) A spool of vintage cotton, um, string? Oh, some old fat knitting needles and a plastic baggie of scrap yarn balls. Yes, we are going too far, oh well, it isn't like we need to keep any of this stuff.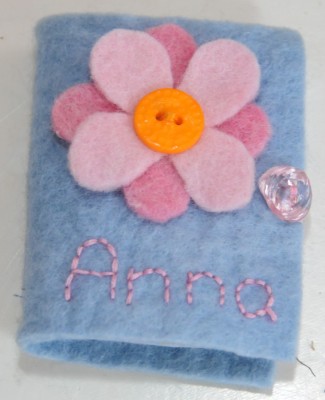 Finish it off with something actually nice, (inspired by Pink and Green Mama's Felt Needle Book), except for how you are desperately trying to finish it while your daughter's carpool to the party is waiting, and the ribbon loop/button that holds it shut isn't quite what it should be. And then PANIC that all of your needles you thought you had have mysteriously disappeared and start tossing things up into the air. Please skip that last part.
Rebecca also made her a bracelet, her first pattern bracelet, she counted 7 small pink beads, then two larger pink beads and repeated perfectly about six times. First time she's made jewelry that wasn't a random collection! And I didn't even get a picture I was in such a rush, shoot!
I hope Anna likes her present, I know I would have loved it!