Collages and Starch Peanuts – Art Playgroup Friday
It's Monday already, isn't it? Oh well. I guess I can't be too hard on the unborn baby for not being early, clearly she has plenty of bad examples from me.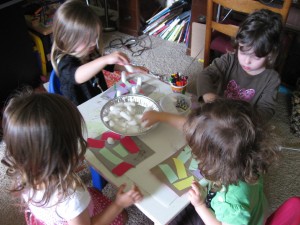 Last week I got a package filled with starch packing peanuts, so we used them as our material for our art playgroup on Friday. Everyone started out with a card stock base, a glue stick and cut up paper to do some collaging, then we got out the starch packing peanuts and just a little bit of water to dip them in, and the kids stuck them on top of their collages. If you give them too much water they will dunk the whole thing, and it will dissolve into a slimy mess they don't want to touch, so I just put about a quarter inch of water or less into a flat bottomed bowl. Probably a wet sponge would be perfect, because they still try to mash them into the water, and the peanuts don't stick as well if they are too wet.