Cleaning the Project Backlog
I've been trying to clean things up in our work and play space, call it nesting if you want, and for me that usually means finishing or discarding or, ahem, hiding, unfinished projects. Finishing is usually the most satisfactory, but of course it takes the most time. The particular table I was cleaning off yesterday had several clothing repair or alteration projects on it, most went in the discard pile, because they were for Rebecca, and thus since I'd put them off for a year, I could just pack them up in the too-small-box. They primarily needed to be altered for head size, since she had an enormous head, but who knows what the next baby will need. Probably the same thing, but I'm going to cross them off the list for now.
I just added these pants this morning though, so I got them done. They had a stiff corduroy draw string, which caused panic and unhappiness when Rebecca tried to use the bathroom herself. Obviously an untenable state of affairs, I don't like clothes with buttons or snaps in the back either, kids should be able to reach everything themselves, and fasten everything themselves. But I liked the pants. So rather than chucking them into the donation bag I pulled out the drawstring and added some elastic. Now they are much more functional, although I should probably do something about the ankle ties too.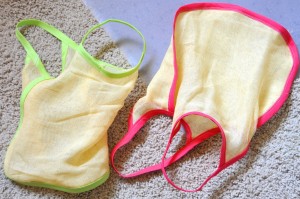 Also in my project pile was all of the materials and a sketched paper pattern to make these produce bags. (The design is heavily borrowed from Linen, Wool, Cotton although I didn't actually use their pattern.) I wanted to make more, but I'm going to put the rest of the fabric back away and see how these hold up, I doubled the loose weave fabric, but I'm worried it's going to fall apart. It's really suited more for curtains, which is what I bought it for ten years ago, rather than being a workhorse. It's just loose woven cotton, not an actual net fabric. I really like how it wrinkled and shrank up when I washed it though, I should have taken another picture. They survived one trip to WholeFoods today, and if I never try to put an artichoke or oranges with stems into them they might last…
And that table is mostly unburied now, hurray! There are just a lot of whole and partial thrifted clothes that I need to fold into my fabric stash, and a couple things I haven't figured out what to do with. I really should have taken a before and after picture!