Adding Elastic to Shoes & Anemonies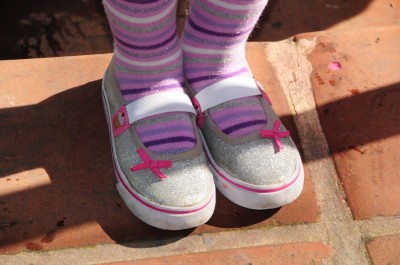 These shoes used to constantly frustrate Rebecca, they had straps with velcro across the top, and whenever she walked normally the velcro would pop open, so she'd walk like a duck, really slowly, whenever she wore them. Great! No, not great.
So I undid all the stitching on the straps and velcro and cut them off the shoe. Then I cut some short lengths of cupcake ribbon and some wide elastic, wrapped the cupcake ribbon around the ends of the elastic and sewed around all four edges of the cupcake to secure the elastic. The cupcake ribbon gives it a nice finished look, and, most importantly, now Rebecca can happily run in them!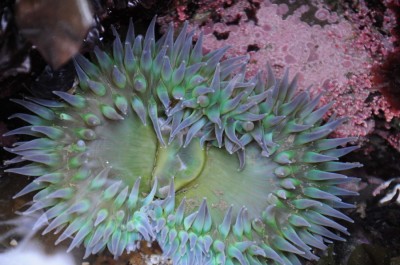 We went on a mom-field trip to the Fitzgerald Marine Reserve on the coast just north of Half Moon Bay. It was cool! There are tons of tide pools, a creek, boulders, anemones, starfish large beds of mussels and a bazillion hermit crabs and marine plants. I'd like to go again. I don't think I'd ever seen anemones in the 'wild' like this before.