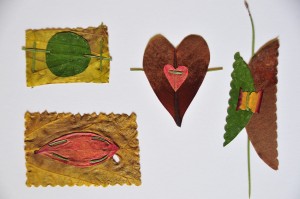 This project was inspired by Richard Shilling's Land Art, via 5 Orange Potatoes. After looking at Richard Shilling's inspiring gallery of work we gathered a big bag of leaves, a pile of Monterey Pine needles, some scissors and got to work.
There was some arguing about who got to use the blue scissors (vs green), and who wanted to sit in the pink chair, but there was a lot of leaf cutting and stabbing with pine needles. Dunno about the kids, but the moms had a lot of fun!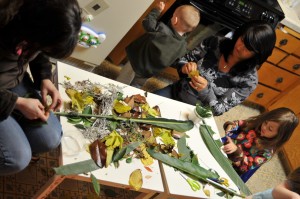 This is probably three weeks old. I am going crazy packing boxes! Monday is the move, I'm sad I'm missing all the great valentines day crafting I could be doing.