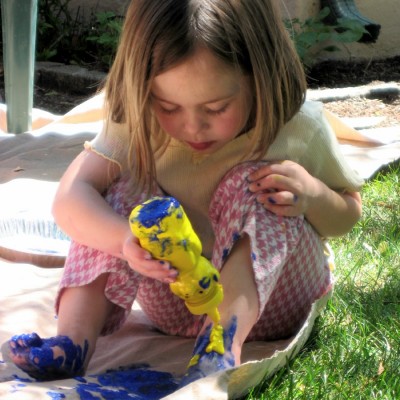 If you put out squeeze bottles of paint, for filling up trays, or for using for painting, it seems that inevitably they are squeezed and squeezed and squeezed into a giant puddle until they are empty. So sometimes when that seems to be happening quite a lot, we make up paint just for squeezing. Mostly flour and water, with some paint for color, it is very cheap, somewhat thick, and very satisfying to squeeze out of old food containers like this old honey bear.
One of the benefits of accidentally buying student tempera instead of washable tempera is that there is so much pigment in them that a tiny bit was enough to dye the flour paint quite brightly. I was actually trying to make pink as one of our colors, so I added just a little red, but I got red. I was quite surprised, as I remember trying to get red with our old washable paints and ending up with pink after what seemed like a ridiculous amount of paint. I've tried making the student tempera washable by cutting it 50/50 with castile soap, which sort of works, perhaps I need to go more like 10/90! And add corn starch. Or something. Anyway, squeezing paint is great fun!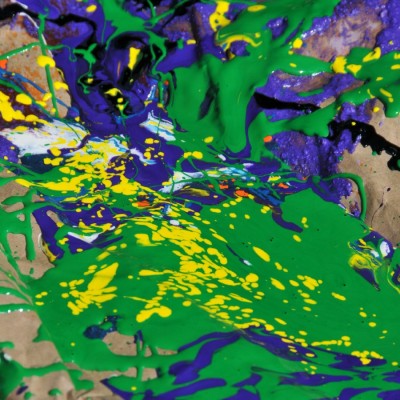 [This second picture is mostly regular paint. It may be a giant puddle, but isn't it pretty?

]
Have you done this before? Have you squeezed paint onto anything other than paper before? I think there are probably some good ideas around this and I'd like to hear them!