Recycled Wrapping Paper Thank You Cards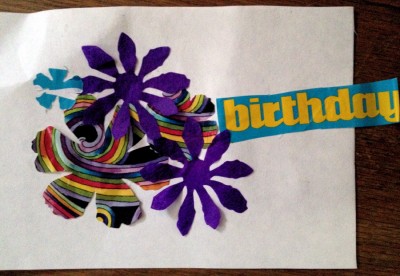 It's always a challenge to come up with a 'Thank You Card' project to get you through all the post-birthday thank yous. Usually I add some motivation by demanding that one batch of thank-yous be done before the next batch of presents is opened, but it's also good to have fun!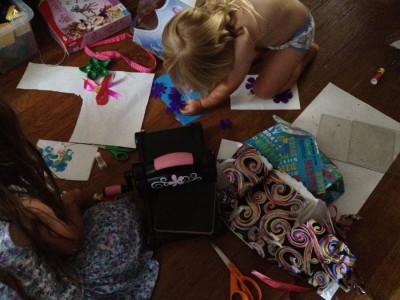 So this year for Penelope's 3rd birthday we did collaging. Got out our Sizzix with the one and only die I own (clearly I need to do something about that) and the girls had great fun cutting flowers out of the scraps of birthday wrapping paper. We also cut out some of the wrapping paper motifs by hand. Then lots of glueing, always popular with 2-3 year olds!
By the end Rebecca was cutting paper to size, stacking all the cutting plates and running it through the machine by herself. I should figure out where I can put the sizzix where she can get it out, we have such a small space, and it's such an awkward shape and too big to fit in their art drawers… Something to work on!