Weaving Baskets – Friday Art Group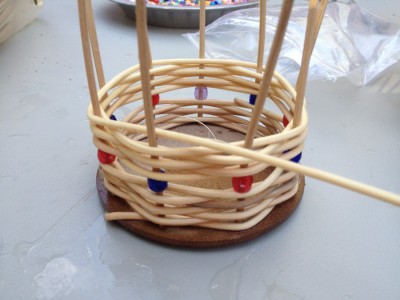 Another practice project for the next session of my textiles class. It went better than I was expecting, which was good!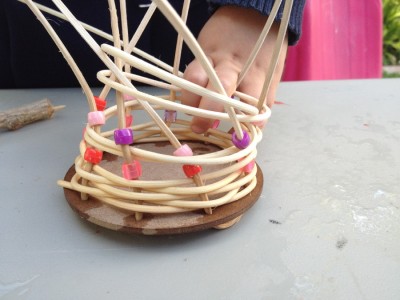 Not all the baskets were straight, and some needed more help getting on track than others, but most everyone played and it worked pretty well.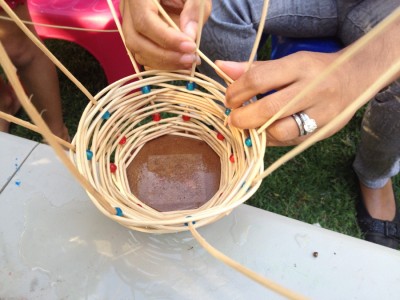 Although a few of the baskets ended up in the mom's hands. I started with my own to avoid the temptation to fix too much. I am constantly having to sit on my hands, but I've gotten used to sitting on my hands. So I guess it's getting easier. But I still have to sit on them!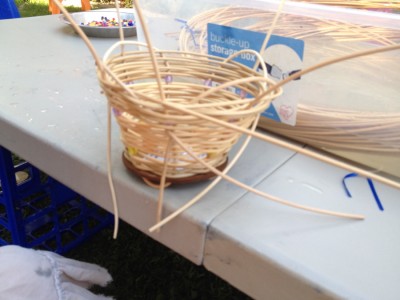 Here is Rebecca's basket which she did almost entirely herself, starting from scratch, mostly solving her own problems. I did have to help straighten out the 'weaving in the uprights' for the rim, although I probably should have sat on my hands some more and let them get tucked in any which way, that would have been just fine. Darn! See! I still need to practice sitting on my hands. Anyway, she has officially left the 'good test subject' category for my textiles class, she has had way too much practice for me to pretend she is a good stand in for a generic un-exposed 1st grader. When she gets rotated into my class I'm going to make her one of the teachers.
If you want to try this project I ordered the supplies from DickBlick, (60961-1316 Round Reed #4, and 60417-1004 Wood Basket Base 4″), fun and not expensive. I think we made about 5-6 small baskets and used about half the reeds. The basket bases are what makes it a feasible project for 6yos, you form the uprights by threading a U of (soaked) reed through each pair of pre-drilled holes, with the last upright going through the odd hole out and the other side of the U being wrapped up around the base and starting the weaving, if that makes any sense. The fiberboard base gives them something sturdy to hold the uprights up, mostly. I wouldn't want to try a 'real' woven base with this age range until they had more practice weaving reeds, as I'm afraid the whole thing would fall apart in their hands.