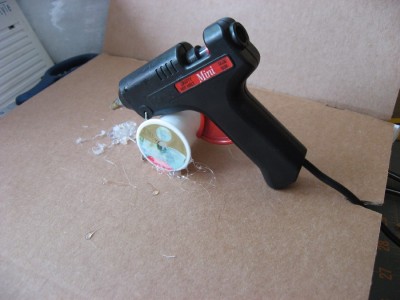 Do you have a cheap glue gun that doesn't stand up on its lame little stand? I do. Let's fix them. I want my glue gun to stay where I put it, and not tip over, slide around, leak glue everywhere, and burn me or my daughters. Lame!
This is not a beautiful or complicated project, but I find it extremely helpful. Take a rough 12″x12″ piece of cardboard, and a large empty spool. (If you don't have any empty spools you could probably use an empty spice jar or toilet paper tube in a pinch. I save thread spools for my daughters to use as threading beads, so I just raided one of those.) Use your glue gun to hot glue the the spool, on its side, into the middle of the cardboard. Cut a deep notch in the cardboard behind the spool for the cord, this is the important part, cheap glue guns always try to stand on their cords which is most of what tips them over. The notch channels the cord's disruptive energy into extra stability. Take that, cord!
To stand your glue gun up slide the cord into the notch and stand your glue gun on the spool. Woo Hoo!