I was inspired by MaryAnne's participation in Hazelnuts' Clothes For Mum Challenge. So I got off my bum and sewed a skirt for me instead of Rebecca. You get the picture of me jumping, because I look too embarrassed in the other pictures! I was aiming for Harajuku with this skirt + tights + legwarmers. The self conscious side of me thinks this outfit is much too young for me, but it makes me feel happy, so I'm trying to thumb my nose at the self conscious side. How old am I? I am 34. I don't think I look much like 34 in this picture, does that make me silly? Oh well! I am also planning to make some longer skirts that don't involve crinolines under them so that I can look elegant and beautiful chasing across the playground like MaryAnne.
Oh yes, it's hard to see, but I also made matching corduroy bows! Ah yes, the skirt is corduroy from my stash, along with some vintage cotton(!) ricrac that I just picked up at an estate sale, and some old black lace I had in my lace drawer. The bottom ruffle was supposed to be longer, but I ran out of red corduroy. And I am loving my serger, I got some extra black on red detail by serging the bottom and top of the bottom ruffle rather than hemming them. Way easier and cheaper too! Well, not if you count the price of the serger, I haven't done nearly enough sewing to amortize that cost yet!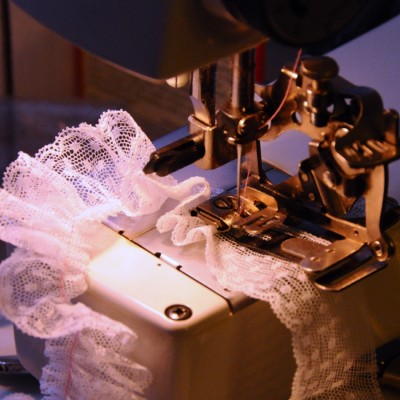 Also, I am re-in-love with my ruffling foot. Gathering foot? Pleating foot? Whatever. It is awesome. I used it to gather my skirt, and it is so much easier than basting and hand gathering! Which I had to do for the bottom ruffle since I ran out of corduroy and the one downfall of ruffling feet is they are hard to tune exactly. Gathering the bottom ruffle was not fun. (Yes this picture is from a different project.) But the extra thrilling part? This is an antique Singer ruffling foot, but it seems to fit and work just fine on my antique Elna. SO HAPPY! I thought I was going to have to invest in all new feet for my new/old sewing machine, but the old metal Singer ones I have seem to more or less fit. YES!