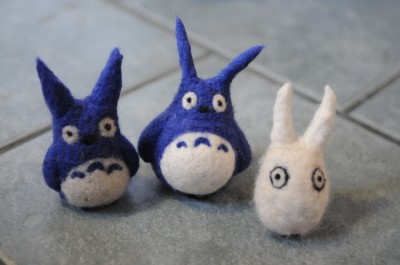 It turns out that Totoros are easy shapes to needle felt, being mostly egg shaped. I was working from the picture in the front of the Totoro from-the-movie book, and I think it's really interesting how differently the two Chu Totoros turned out. Since I was aiming for the same shape, obviously I am not an expert at this! But they are still both recognizable. The first Chu Totoro went to a Totoro loving friend for their birthday, and the second Chu Totoro and Chibi Totoro have joined our official Ghibli O-Totoro. Now I just need one of those super big Cat Busses to stuff them all in! Except for how we already have a little Cat Bus, and I really don't need any more stuffed animals in this house! I would like to make a camphor tree for them to play in, but before I'm allowed to make it I need to figure out where we could keep it!
Also, if you want to teach your children to wet-felt, the bathtub is a great place to start! Rebecca and Penelope were in the bathtub, and I gave them some wet soapy balls of wool, and they rolled them and rolled them, dunked them in a bowl of ice water to thermal shock them, and rolled them, and dunked them back in the bath, and rolled them and… I remember last time we tried to do wet felting they got water everywhere, got wet, and then got bored. This time they were already in the bathtub, so immediately 50% better.
Rebecca wet felted a ball, then after everyone was out of the bath she needle felted it purple (since we didn't have any black roving), added two eyes, and presto, her very own soot-sprite! That she pretty much made herself! (And I have no picture of because it got lost almost immediately…)
And a question I would really like to hear your answer to: Would you rather an electronic pattern have the steps documented by photographs or illustrations?