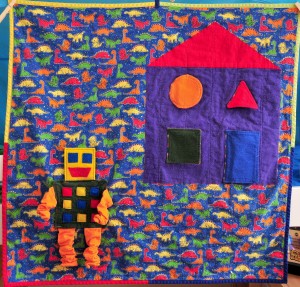 I have such a hard time taking pictures of quilts around here. It would be nice if I had a lovely blank wall to tack them up against, but usually the best I can do is spreading it on the floor, and climbing up on something precarious to shoot a picture straight down. But I'm not really up for that right now! Not that this is even very recent, I made it, oh heavens, two months ago now! It's been sitting in my to-blog-about pile for quite a while I guess! Must have been a lazy day. Really, looking at the colors on this now makes me a bit cross-eyed, hopefully the baby likes it.
This was a pretty quick project, I made it in a couple of days I think. The robot has stretchy arms, and felt buttons and a needle felted head. I was going to leave the head as something floppy to play with, but the felt was too heavy, and was always looking at the ground. The felt was great for fast applique because I didn't need to worry about ironing it, or edging it, and it won't fray. The arms have elastic in them, they are tubes with the elastic atatched at each end. I think I should have sewn down them too, because the fabric wants to slip down over the hands. Hrm.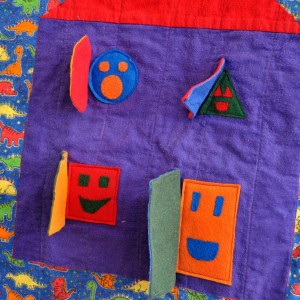 When I first decided I was done with this there was nothing behind the door/windows on the house, they were just floppy shapes to play with. But Rebecca informed me that that was NOT acceptable, and there needed to be something behind the doors. Duh mom. And she's obviously right, I was just in lazy denial. So I needlefelted some felt shapes into faces with the eye shape mirroring the head shape. And that was much better.
For the third lazy of the day, for the first time I bought quilt binding. I don't think I'll do that again, because I didn't realize it wasn't cotton. So that's a bit icky if you ask me. I did add a loop at the 'top' so it can be easily hung up or dragged around.
There are probably lots of busy-book sorts of activities that you could turn into a blanket, that would be pretty fun. I think blankets with activities built in would be good for stroller blankets. And park blankets. Quiet time blankets, but not naptime blankets. Which is okay, because they are kind of lumpy anyway.