Supersized Doll House Chair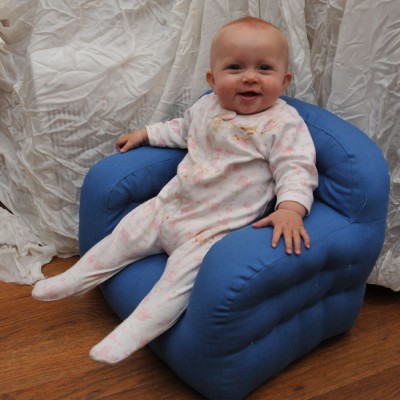 So, when I created the tutorial for this felt doll house chair I wondered what would happen if I turned it into a toddler chair. Well, when the next One Yard Wonders book comes out, you'll be able to decide if it was successful or not.

Clearly the 'muslin' (canvas) pattern holds weight, but, I don't know, I'm not totally satisfied with it. Is tying a chair weird? Should I have used upholstery buttons instead of just thread? But I don't think I can do any serious redesign now.
I do still need to make the final version, that's next on my table. I've finished one project for the book, and I have two more and a looming deadline that is totally stressing me out! It's like I have a real job again! Stress! It makes me want to crawl into bed and wait until those in authority come and haul me away for pretending that I can accomplish something good. Erg. But! One foot in front of the other, and not wasting time online can work wonders. Also, just a little sake before I sit down to write really helps me get out the first draft of a pattern! I found that out last week. Is that bad? Should I not admit that? Maybe, but it was nice to have a little help with the voices in my head saying, 'no!' 'that's awful' 'no one will understand that' 'that's too basic! People will think you're condescending!' 'give up!' But what would be the point of life if we gave up, right? So, forward forward forward.