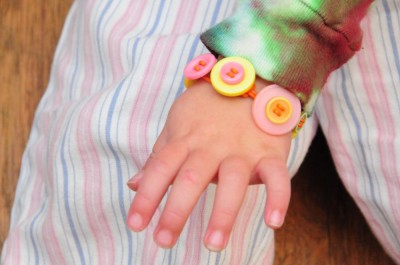 Squee with me at my adorable 2yo hand model! Okay, now notice what she is wearing, a fashionable button bracelet, made with sturdy wire that holds its own shape. We ordered some sculpture wire from Dick Blick, The primary difference between that and the rolls of 22 gauge electrical/breadboarding wire we have around here seems to be in the profusion of colors and extra price, but the girls are having a great time twisting it up into various tangles, and so am I. Combined with our burgeoning collection of buttons, also recently fortified from Dick Blick, these bracelets were practically inevitable.
They are an easy gift for moms to make, but honestly you have to pull the wires quite hard to get them to double back through the buttons, and even harder if you are stacking buttons where the holes don't quite line up, so I'm not going to recommend this as a project for a mob of 5yos, although that was my original aim. If I was going to do it with Rebecca I would probably give her a pair of pliers so that she would have something sturdy to pull with, and plenty of encouragement. One of my mom friends wants to make a passel of these as birthday favors, and I think that's a great idea.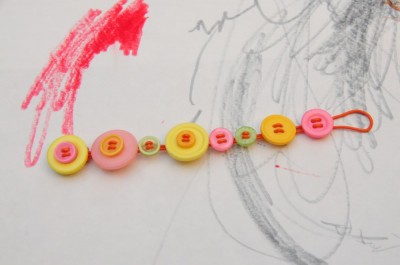 To start collect some buttons and enough plastic coated wire to go around your wrist about four times. You could probably also manage this with two pipe cleaners if you could manage to connect them securely.
Fold your wire in half and thread the first button on, leaving an empty loop at the end large enough to slip your last button through.
Thread on the rest of the buttons, one by one or two by two, going up through the backs, positioning them relative to the last button, and then threading the wire down through the fronts. (Once you have the button fully threaded on they do not slide along the wire, so do your repositioning while they are half threaded on.)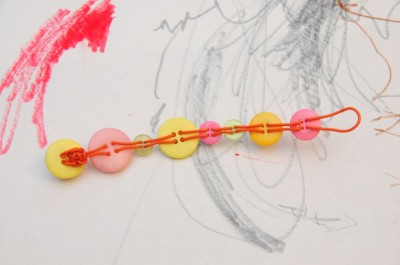 Here you can see the threading from the back, parallel wires, nothing fancy.
Once your last button is on flip the bracelet to the back, and twist the ends back around the last button. I may, perhaps, have gone overboard with the number of knots and tail tucking. But I hate for those chubby wrists to get poked!
What's the most fabulous thing you've made or want to make out of buttons?