Snow Dough and Watercolor Snowflakes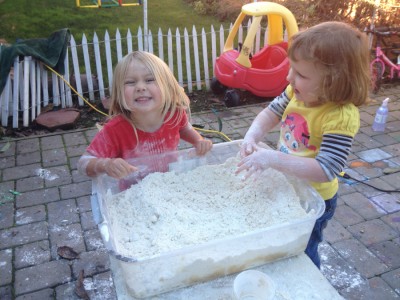 Snow Dough is just another name we came up with for Cloud Dough, which I first saw at the awesome TinkerLab. This time it started off as a mixing activity with the younger kids. I started them off with the correct proportions, but then they just wanted to add 'more' of everything, which worked fine.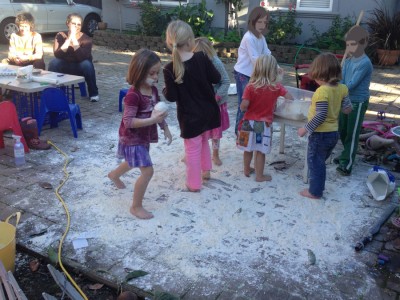 Once the older kids got involved it started to get a little out of control. Then I went inside to make muffins. That was a mistake. I don't have a picture of what it looked like when I came back out, but if you change this picture to be an even coating of snow dough all over our driveway and the neighbors driveway around the corner you will be about right. I will admit to being a little overwhelmed, and then I made them clean it up. So we had one day of snow in California this year!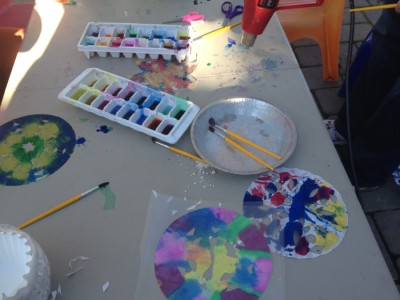 We also cut coffee filters into snow flakes, and painted them with liquid watercolors while they were still folded to get symmetric color designs. Don't try to tell me that snow flakes are not rainbow patterned. Please revisit your 3 year old self and then get back to me.
I've been struggling for a while with the problem of what to do with vast quantities of wet artwork, for which there is NOT room in my tiny house. I went so far as discussing a drying rack, for which there is also not room in my tiny house, but I was contemplating it anyway, when I realized that I already had the perfect tool, our heat gun! So now no one ever has the excuse at art group to leave their wet art here, a heat gun can dry anything in about 30 seconds. Woo! I've started using our heat gun for everything. And it takes up way less space than a drying rack!
So we dried all the snowflakes with the heat gun, none of them caught on fire, and then we sealed some of them with contact paper. Fun! But not as fun as spreading the snow dough all over the neighborhood.