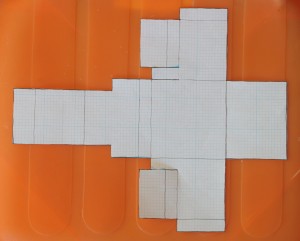 Can you tell what this is? It looks a little bit like a fighter jet. Or if you turn it sideways it could be a city skyline…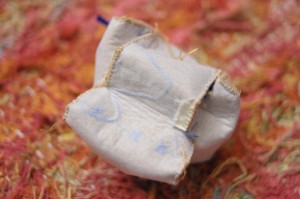 How about now? It's sewn up, but inside out.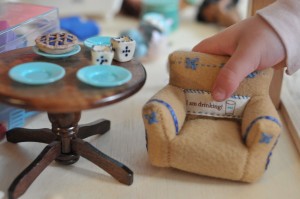 Oh, it's a chair!
The other day we were having a tea party in my daughter's doll house, and there were not enough chairs. Yes, it was tragic, but one of the four thrifted Kelly dolls had to sit on a couch. Shocking. Something had to be done. So I mentally unrolled an arm chair onto a piece of paper. That was the easy part. Then I had to find the time and motivation to do all the cutting and stitching and finishing. I think that took about three hours.
I've been wondering recently whether my life would have taken a different direction if all those aptitude tests in high school had been a little more thorough. I had great math and spatial relation skills, so I went into engineering and computer science, because those were the obviously salable things that I liked. But what if they had asked me whether I liked to sew? I don't think I ever considered that I could be one of those people who created patterns. But it's full of geometry and space folding and figuring out how to put things together, which I love. But it's also one of those scary and unreliable artistic professions, and I'm often not very brave that way.
Would anyone want to make one of these chairs? Should I put it on my list of tutorials to do?